New Rules Offer Nursing Home Residents More Control of Their Care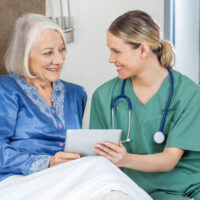 After considering nearly 10,000 comments provided by the public on a proposed set of rules, the US Department of Health and Human Services (HHS) has begun implementing important new regulations governing the operation of nursing homes. The rules require that nursing homes receiving federal funding provide residents with greater control over their experience as a resident, and provide expanded protections from nursing home abuse and poor care.
The new regulations cover a broad range of topics regarding nursing home operations, constituting the most sweeping changes made to these rules in the past 25 years. HHS will be implementing the revised rules in three phases, the first of which was in November of 2016. Generally, the rules are intended to make care more "person-centered" for the 1.4 million Americans living in nursing homes. One of the most important changes to the rules barred nursing homes from requiring residents to agree to arbitrate their claims, rather than being able to file a lawsuit in court if they chose. The nursing home industry association filed a lawsuit based on this provision, arguing that the government overstepped its bounds by enacting the rule, and the rule is now on hold while the lawsuit moves through the courts.
Changes to the rules that are currently in effect include:
Greater comfort and customizability
Nursing home residents will now have the right to request snacks or meals outside of regularly-scheduled meal times. They will also have the option to select their own roommates, including same-sex partners or siblings, and will be able to have visitors whenever they choose, so long as the visit doesn't somehow impose on another resident's rights.
Right to challenge discharges
Residents who are involuntarily discharged from a facility will now have the right to remain a resident while they appeal the discharge. If the resident has a pending application for Medicaid or some other form of insurance, they cannot be discharged for nonpayment.
Improvements in staffing quality
HHS has introduced new rules requiring special training for staff who will work with residents suffering from dementia, as well as training aimed at preventing abuse of residents. Additionally, facilities will need to provide a sufficient number of competent staff to meet the needs of all residents.
Increased protection from abuse
The definition of "abuse" will now include forms of financial exploitation and abuse, and nursing homes will no longer be able to hire licensed professionals with a record of discipline based on financial exploitation, abuse, mistreatment, or neglect.
If you or someone you love has had their rights as a nursing home resident violated, or been the victim of nursing home abuse, find out if you may have a claim for money damages based on this abuse by contacting the skilled and compassionate Hudson Valley nursing home abuse lawyers at Rusk, Wadlin, Heppner & Martuscello, LLP for a consultation on your case, in Kingston at 845-331-4100, or in Marlboro at 845-236-4411.