New Study Reveals that Children Lack Capacity to Judge Traffic when Crossing the Street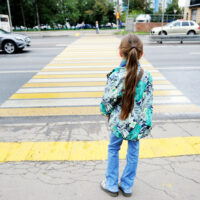 Many parents are unable to pick their children up from school or meet them at the bus stop, so they must trust their kids to make their own way safely home from school. While you have likely spent time teaching your child how to cross the street, new research shows that children of a certain age simply lack the ability to accurately judge oncoming traffic.
Study finds brain development hinders young children's ability to cross street safely
The recent study was performed at the University of Iowa, using a 3D simulator of a single-lane street where virtual cars were traveling at 25 mph. The head author of the project, Elizabeth O'Neal, described the environment as "very compelling." "We often had kids reach out and try to touch the cars," she said. The researchers included 6, 8, 10, 12, and 14-year-old children in the study, as well as a control group of adults. The researchers noted the rate at which children from each age group were hit, and the reasons why they failed to cross the street successfully.
According to researchers, 6-year-olds were most likely to be involved in an accident, getting hit 8% of the time while crossing the street in the simulator. 8-year-olds were hit 6% of the time, 10-year-olds, 5% of the time, and 12-year-olds, 2% of the time. Only 14-year-olds had no accidents whatsoever.
The researchers found that the youngest children were often failing to accurately and consistently measure the gap between two oncoming vehicles, failing to properly estimate how close an oncoming car was and the speed at which it was traveling. Additionally, younger children failed to step out of the street as fast after a car passed as did older children, which the researchers attributed to poor motor skills and a reduced ability to time their movements.
How to prevent additional child pedestrian deaths
Parents with young children are encouraged to consider the implications of this study for their kids. Make sure your child knows to cross at an intersection with a pedestrian signal whenever possible. If a street near your child's school or a popular bus stop lacks a marked crosswalk, speak to your city or town government about installing a crosswalk to keep your children and others safe. As a driver, be on the lookout for young kids by the side of the road, drive slowly around them, and remember that they might move at unpredictable times.
If you or your child has been injured in a New York pedestrian accident, contact the seasoned, dedicated, and effective Hudson Valley personal injury attorneys at Rusk, Wadlin, Heppner & Martuscello, LLP for a consultation, at 845-331-4100 (Kingston), or 845-236-4411 (Marlboro).