New York's Laws on Snow Removal, and what to do after a Slip and Fall in the Hudson Valley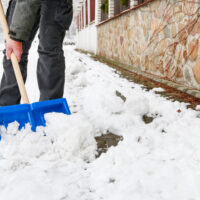 New York has gotten slammed with winter weather this season, with record-setting storms dumping piles of snow on local roads and sidewalks. With snow and ice come opportunities for serious accidents—not only on roads, but on sidewalks and walkways made slippery by the white stuff. Most New York cities and towns impose snow-clearing duties on local property owners, and towns throughout the Hudson Valley are no exception. Read on to learn about the legal duty to remove snow, and the consequences that can follow for failing to do so. Speak with an experienced Hudson Valley slip-and-fall accident lawyer if you've been injured on a dangerous sidewalk.
City and town codes instruct on snow removal
Towns and cities throughout New York require owners of property to clear the sidewalks in front of their home or building after a snowfall. Each town sets its own time limits on when the snow must be cleared after the storm has ended, and some impose harsh penalties on owners who don't clear sidewalks within the established time frame. When ice has formed and can't be removed, owners must also use ash, sand, or salt to make the ice less slippery for pedestrians.
The City of Kingston, for example, requires owners to remove snow on sidewalks adjacent to their property within 12 hours after a snowstorm ends, or when receiving a written request from a police officer or superintendent. If the sidewalk isn't cleared, then the city can charge property owners $100 for snow removal, or the cost of hiring an independent snow removal service to clear the snow. Owners of property in Marlboro have 24 hours to remove snow and ice after a storm ends, but sidewalks in front of businesses and storefronts must be kept clear of ice and snow at all times.
Victims may have claim against neglectful property owners
Snow and ice removal laws exist to keep pedestrians safe from slip-and-fall injuries as they make their way along public sidewalks. When owners don't clear away snow and ice as soon as is reasonably possible after a storm ends, pedestrians are at risk of being injured while attempting to cross. When individuals are injured while using a public sidewalk adjacent to a residential property or business where snow hasn't been cleared, these victims may have a claim against the property's owner for their injuries. A skilled New York personal injury lawyer can help you determine if you have a claim.
For assistance in recovering money damages after a New York slip-and-fall accident, contact the knowledgeable and dedicated Hudson Valley personal injury lawyers at Rusk, Wadlin, Heppner & Martuscello, LLP for a free consultation at 845-236-4411 (Marlboro), or 845-331-4100 (Kingston).