One Year After Valhalla Metro North Crash, Lawsuits Filed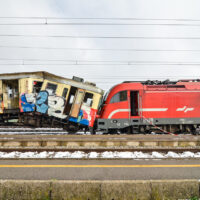 The deadliest crash in Metro North history occurred just over one year ago, on February 3, 2015, when a train heading north crashed into an SUV on the tracks in the town of Valhalla, between the Valhalla and Mount Pleasant stations. In recent days, the families of those who were killed or injured in the crash have begun to file lawsuits against Metro North, the City of Mount Pleasant, and the train's conductor, Steven Smalls, though none have listed Ellen Brody, whose SUV it was that caused the crash, as a defendant in their suits. One particularly vocal plaintiff is Alan Brody, Ellen's widower.
In his lawsuit filed on the anniversary of his wife's death, Alan Brody claims that various parties had a duty to prevent the sort of accident that occurred, and thus should be held responsible for the resulting costs. First, Brody alleges the City of Mount Pleasant was negligent in failing to close the railroad crossing at Commerce Avenue, where Ellen's car became boxed in on the tracks between the crossing gates. A witness to the accident described seeing the rear crossing gate land on the rear of Ellen's SUV after she had pulled onto the tracks, and that Ellen got out of the SUV to look at the crossing gate before getting back in and pulling forward immediately before the train reached her. Alan Brody claims that his wife, who was in the process of driving to an unfamiliar place, was unaware she was at a railroad crossing. He asserts that the signage indicating that there was a railroad crossing was not clear to anyone but locals and those who were especially familiar with railroad signage.
Brody also argues that Mount Pleasant should have closed the crossing after a previous fatal accident which occurred in 1984. His attorney has also noted that, when the accident occurred, the light at the intersection ahead of Ellen Brody was red, leaving her stuck on the tracks while waiting for the light to turn green, resulting in the conclusion that the intersection was faultily engineered. The National Transportation Safety Board (NTSB) conducted an investigation of the crash and the crossing where it occurred, and released over a thousand documents relating to its investigation in December of 2015. Mount Pleasant indicated that it would consider making changes to the Commerce Ave. crossing after it had had an opportunity to review the NTSB's findings.
If you have been injured in a Hudson Valley train accident and need legal assistance in pursuing a claim for damages, contact a knowledgeable and dedicated attorney for auto accidents Rusk Wadlin Heppner & Martuscello for a consultation on your claims, at 845-331-4100 in Kingston or 845-236-4411 in Marlboro.