Orange County Rollover Crash Injures Two and Kills Two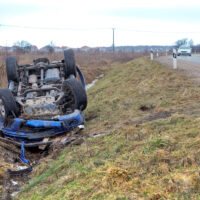 A deadly rollover crash recently occurred in the Orange County hamlet of Pine Island. The accident took the lives of two passengers and left the driver and third passenger with serious injuries. The accident is an example of the deadliness of rollover crashes.
Convertible rolls off road, throwing rear-seat passengers
The crash took place on a Saturday evening, with emergency personnel being called to the scene at around 7:30 pm. A BMW convertible with its top down had driven off a dark, two-lane section of Glenwood Road. The car rolled over and came to rest on its side, leaning against a vacant house. The two men sitting in the car's front seats survived the crash. The 32-year-old driver was taken to Westchester Medical center, and the 32-year-old passenger was taken to Orange Regional Medical Center. Each had serious injuries but was expected to survive. Two women who had been seated in the back of the convertible were thrown from the car in the crash. They were pronounced dead at the scene of the accident. No other cars appeared to be involved in the crash. The accident remains under investigation by Warwick police.
Rollovers one of the most dangerous forms of accident
Rollover crashes are one of the most lethal forms of car accident and can occur for a number of reasons. One theory for the cause of the recent Orange County crash was that the driver of the convertible overcorrected when rounding a curve in the road, causing him to lose control of the car. Rollover crashes can also be the result of the car encountering a so-called "phantom vehicle." In these cases, a vehicle that does not make contact with the other vehicle nevertheless causes the other car to be involved in an accident, such as by veering into its lane and causing it to run off the road, or by suddenly braking and causing the other car to swerve to miss hitting that car.
Phantom vehicle accidents can often result in rollovers, since victim vehicles are often forced to swerve abruptly to miss hitting the other car. A skilled personal injury attorney can help rollover accident victims to locate eyewitnesses to a crash and to reconstruct roadway conditions to determine whether another driver or government body responsible for maintaining the road should be liable to you for your injuries.
If you've been hurt in a rollover crash in New York, find out whether you're a candidate to file a claim for money damages by contacting the seasoned and knowledgeable Kingston car accident lawyer at Rusk, Wadlin, Heppner & Martuscello, LLP for a consultation, in Marlboro at 845-236-4411, or in Kingston at 845-331-4100.