Pedestrian Accident Leaves Young Woman Seriously Injured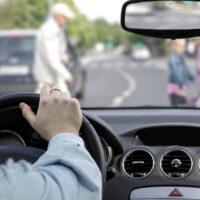 A pedestrian accident involving a young woman recently occurred in the city of Kingston. The accident and surrounding allegations illustrate the potential difficulties in seeking recovery on a personal injury claim after a pedestrian injury accident. Learn more about the accident below, and contact a knowledgeable Hudson Valley personal injury lawyer for more information.
Accident leaves woman with multiple fractures
The local crash occurred on February 14, 2017. A 22-year-old woman was crossing the road near the intersection of US Route 9W near Garraghan Drive at approximately 6:30 pm. A driver traveling south on Route 9W failed to see the woman and hit her. The woman sustained multiple fractures and was taken to the HealthAlliance Hospital's Broadway Campus, but was subsequently transferred to a different hospital. Emergency responders believe that the woman is likely to recover from her injuries. The driver, a 31-year-old man from Port Ewen, did not receive a citation from law enforcement, as witnesses told police that the driver's traffic signal prior to the collision was green.
Pedestrian accidents come with major consequences for victims
Serious accidents involving pedestrians have become increasingly common in recent years. Since 2014, the annual rate of fatal pedestrian accidents has risen by 22%. Pedestrians are especially vulnerable to wounds that overcome New York's no-fault threshold, suffering long-lasting and costly injuries such as fractures, facial scarring, or the permanent and consequential limitation of use of a particular body part.
In order to properly address these types of serious injuries, many accident victims are forced to file a personal injury lawsuit to seek damages beyond what may be available under an insurance policy. This requires pedestrian accident victims to find evidence to support their claim that the driver was acting negligently in causing their injuries. In some cases, a driver and an accident victim may have very different versions of events. Even impartial eyewitnesses may believe earnestly that they saw an accident as it happened, while in reality, their senses played tricks on them. In these cases, having the help of an attorney can prove critical to accident victims. An attorney can help victims seek out alternative sources of evidence, such as additional eyewitnesses, accident recreation expert testimony, or security camera footage, which will support a claim for much-needed money damages on behalf of victims.
If you've been injured in a New York pedestrian accident and need skilled and knowledgeable help pursuing a claim for damages, contact the Hudson Valley personal injury lawyers at Rusk, Wadlin, Heppner & Martuscello, LLLP at 845-331-4100 (Kingston), or at 845-236-4411 (Marlboro).