Pendente Lite Support Not Barred by Prenuptial Agreement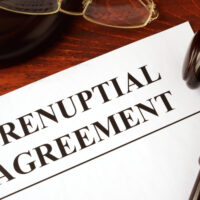 Prenuptial agreements can be an excellent way to limit the number of issues that a couple needs to litigate in a divorce, and to control the existence or amount of spousal support to be paid after the couple parts ways. However, a prenuptial agreement cannot be effective in protecting spouses from litigation where the agreement itself failed to include all critical provisions. A recent divorce case before the New York Appellate Division titled Davis v. Davis is an example of the prolonged litigation that can result from a poorly-drafted prenuptial agreement, and the importance of hiring thorough, knowledgeable, and detail-oriented New York family law attorneys.
The Davis case centered on a couple who had signed a valid prenuptial agreement when they were married in 2013. The agreement stated that both parties waived the right to spousal maintenance, should the couple get a divorce. The husband filed for divorce in 2015. Subsequently, his wife filed a motion for spousal support during the pendency of the divorce action itself, a form of support known as "pendente lite" maintenance, and also filed a motion for interim attorneys' fees. The trial court granted the wife's motion, awarding pendente lite maintenance and attorneys' fees to the wife. When the husband failed to make the ordered support payments, the wife filed a motion to hold the husband in contempt of court. The court again ordered the husband to issue the pendente lite payments the judge had previously awarded to the wife.
The husband contested the award of pendente lite maintenance and attorneys' fees to his wife, arguing that the prenuptial agreement the spouses had signed prevented either spouse from seeking spousal support in the event of a divorce. The Appellate Division noted in its opinion that the couple's prenuptial agreement did not specifically state that the spouses waived the right to seek pendente lite maintenance or other support in the interim of filing for and obtaining a divorce. As a result, the Appellate Division found the award of pendente lite maintenance justified under the law and facts of the case, since the prenuptial agreement didn't apply to that form of maintenance, and the disparity between the parties' income was great enough to warrant an award of maintenance.
If you are considering creating a prenuptial agreement before your New York marriage, seek seasoned and effective legal counsel by contacting the Hudson Valley family law attorneys at Rusk, Wadlin, Heppner & Martuscello, LLP for a consultation, in Kingston at 845-331-4100 or in Marlboro at 845-236-4411.