Plaintiff Wins Summary Judgment Motion on Liability of Negligent Driver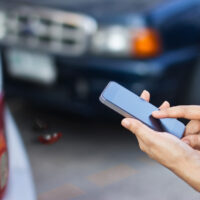 In a recent New York Appellate Division case, a plaintiff in a car accident lawsuit has benefitted from a type of motion typically relied upon by defendants to get a case dismissed prior to trial. This case is a good example of the ways in which an experienced personal injury attorney can obtain a faster judgment for an injured client at trial, even where a clearly-responsible party declines to settle early.
The case, titled Guerrero v. Milla, was based on a car accident which occurred on White Plains Road in Bronx County. The plaintiff was driving in the right lane, while the defendants were in the left lane, with the owner of the car riding as the passenger. The plaintiff sued both the defendant as a negligent driver and the owner/passenger for negligence in allowing a negligent driver to drive her car. The accident spurring the lawsuit occurred when the defendant driver attempted to merge lanes and in the process struck the plaintiff's car. The plaintiff claimed in an affidavit that this attempt to merge occurred "without warning." Affidavits submitted by the defendants did not contest that the accident occurred when the defendants merged into the plaintiff's car. The defendants also stated that they had not seen the plaintiff's car prior to merging.
In her lawsuit, the plaintiff filed a motion for summary judgment. Summary judgment motions are a way for parties to argue that there are no disputed questions of fact for the court to decide that could change the outcome of the case one way or the other. Parties can request summary judgment on one issue or all issues before a judge. Here, the plaintiff requested summary judgment only on the issue of whether the defendant was solely responsible for the accident occurring. She argued that the defendant driver had been in violation of New York Vehicle and Traffic Law § 1128(a), which makes it a violation of the law to change lanes when it was not safe to do so, and that he had failed to see the plaintiff's car, despite the visibility of the car. The defendants attempted to argue that the plaintiff might have been speeding, and the defendant passenger stated that, before the accident, she saw a "fast-moving shadow" out of the corner of her eye that might have been the plaintiff's car. The court concluded that this was merely speculation, and not enough to create a question as to whether or not the defendant was solely responsible for the crash occurring.
If you have been hurt in an accident in New York, contact the knowledgeable and experienced Hudson Valley lawyers at Rusk, Wadlin, Heppner & Martuscello for a no-cost consultation on your car accident claims, in Marlboro at 845-236-4411, or in Kingston, at 845-331-4100.