Plan Ahead to Protect Your Divorce Settlement from Seizure in Bankruptcy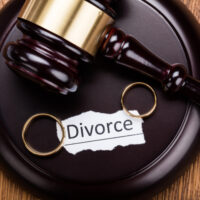 One of the more complex aspects of filing for bankruptcy under Chapter 7 is determining what property should be considered part of your estate and ensuring that your most important possessions are covered by an exemption. Normally, the property that the court will consider to be yours will be only what you own at the time of filing. However, certain forms of property can become part of your estate retroactively, including property received in a divorce settlement. Find out more below, and contact a knowledgeable bankruptcy attorney with any questions.
What the bankruptcy estate includes
Your bankruptcy estate includes any property you legally own, including things you might not think of as property, such as the right to file a lawsuit against someone who may owe you damages. In the process of filing for bankruptcy under Chapter 7, your attorney will help you use your exemptions to protect certain property from the bankruptcy trustee. The trustee can seize any non-exempt property and provide the proceeds to your creditors. However, these exemptions are often enough to cover petitioners' most important property, if not all of it.
Generally, the bankruptcy court will only consider the property you already own to be part of your estate, but there are exceptions to this rule. If you become the legal owner of certain types of property within 180 days (six months) of filing for bankruptcy, the court can retroactively add it to your estate for the purposes of your bankruptcy filing. Cash or items received as part of a divorce is one such form of property. Even if your bankruptcy filing had already been closed, the court could reopen your case once you receive a settlement.
Keep in mind that the bankruptcy court will use the date that your divorce becomes final, and not the date that you receive a settlement or property, as the date as of which you'll be considered a legal owner of that property. With careful planning and the help of experienced bankruptcy and divorce attorneys, you may be able to prevent your divorce from becoming final during your bankruptcy, or structure the settlement in such a way that it does not interfere with your bankruptcy case.
If you need assistance finding a path forward out of overwhelming credit card or medical debt in New York, contact the experienced and skilled Hudson Valley bankruptcy lawyers at Rusk, Wadlin, Heppner & Martuscello, LLP for a consultation, at 845-331-4100 (Kingston), or 845-236-4411 (Marlboro).