Police Chase Leads to Multiple Vehicle Crash in Orange County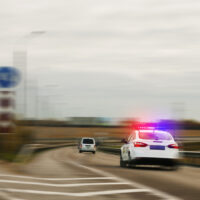 A police chase along I-87 ended with the fleeing suspect crashing into multiple cars in Newburgh on a recent Thursday morning. Read on for details about the accident, and discuss your case with an experienced New York car accident attorney if you or a family member has been injured in a car crash in the Hudson Valley.
Fleeing driver causes multi-vehicle crash, seriously injures passenger
New York state troopers responded to an alert for a vehicle wanted for questioning regarding an investigation on a recent Thursday just before 11 a.m. The troopers attempted to stop a black Chevy Tahoe traveling down I-87 near the Newburgh exit. Their pursuit began when the driver refused to stop. The driver left the interstate at Exit 17 and continued for 10 minutes until it hit another Chevy Tahoe head-on, along with two other vehicles. The crash occurred on State Route 17K in Newburgh.
Four people in the fleeing vehicle were injured in the crash. Three were taken to nearby hospitals for treatment of non-critical injuries. The fourth person was airlifted to Westchester Medical Center with serious injuries. All of the people in the other vehicles sustained non-life-threatening injuries.
Criminal prosecution does not limit civil actions for damages
Clients sometimes believe that criminal and civil prosecution are mutually exclusive–if the driver is being punished criminally for their crime, then I cannot also sue for damages. That is simply not the case. Reckless drivers who cause accidents may be held liable in civil court for any injuries that result, regardless of what happens in criminal court. If someone goes to jail for a crime like driving while intoxicated, or an unrelated crime from which they were fleeing when they caused the crash, they are just as open to a personal injury lawsuit as any other at-fault driver. A DWI conviction or evidence that someone was fleeing from a crime is, in fact, strong proof that they were driving negligently or recklessly and should be held responsible for causing serious injuries.
Moreover, even if someone is acquitted in criminal court on DWI or reckless driving charges, they may still be held to task in civil court. Prosecutors face a greater burden of proof in order to convict someone on criminal charges, and the fact of acquittal does not count against your civil case. Your New York traffic accident attorney can still prove that the other driver was at fault and was responsible for your injuries.
Get Experienced Legal Help After a Hudson Valley Car Accident
If you or someone you love has been hurt in a car crash in New York, find out if you have a right to compensation for your injuries by contacting the experienced, effective and skilled Hudson Valley personal injury lawyers at Rusk, Wadlin, Heppner & Martuscello, LLP for a free consultation at 845-331-4100 (Kingston) or 845-236-4411 (Marlboro).