Preparing Your Car for Winter Weather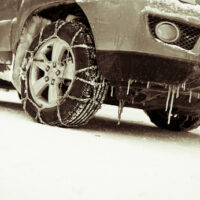 Below-freezing temperatures and dangerous precipitation are both tough on cars. While there's no way to predict whether other drivers on the road are competent, experienced winter weather drivers, help reduce your risk of being in an accident by making sure that your car is up to the task of navigating Hudson Valley roads this season.
Have your brakes inspected, and complete any other needed repairs
When roads are covered in snow or sleet, or you unexpectedly hit a patch of black ice, you want to be able to rely on your brakes to bring you to a stop as fast as possible. Take your car to a mechanic to have your brake pads and fluid system inspected. While you're there, have the mechanic check for other leaks or mechanical issues. Sub-zero temperatures can exacerbate existing problems, and the last time you want to be stuck on the road with a broken-down car is on a freezing-cold day.
Make sure your tires are in good condition
Check your tires for baldness and low tread, and make sure that they are fully inflated per the manufacturer's suggestion. Tires with too low of tread are not able to gain as much traction on slippery roads. If balding or otherwise unsafe tires cause you or another driver to lose control of the vehicle and cause a crash, negligence regarding proper car maintenance can increase the degree to which you or the other driver could be found at fault for the accident. Even when your brakes are working perfectly, a lack of traction could cause you to skid uncontrollably. If you believe you may be spending more time in higher-elevation areas that receive greater snowfall, consider putting snow tires on your car, or have snow chains ready (and know how to install them).
Top off fluids and replace windshield wipers
Make sure that your radiator and antifreeze reserves are topped off, and also make sure to refill your windshield wiper fluid reserve with a formula that will not freeze and clog the jets. Ask your mechanic if you should switch to a winter weight motor oil, as well. If you've not used your windshield wipers much recently, ensure that they aren't cracked or broken.
If you've been hurt in a crash due to another driver's negligence or recklessness, contact a knowledgeable Kingston traffic accident lawyer at Rusk Wadlin Heppner & Martuscello for a consultation on your claims, in Kingston at 845-331-4100, or 845-236-4411 in Marlboro.