Prevent Swimming Pool Accidents This Summer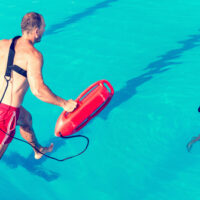 Having access to a pool, either at your own home or that of friends, can be a wonderful way to cool off during the summer. That said, swimming pools also come with risk and are subject to careful regulation by state law. Read on to learn more about the dangers posed by pools and the laws that govern pool safety and maintenance for owners.
Drowning is the fifth-most common cause of death in the US. Of the ten people who die each day from unintentional drowning (non-boating related), 20% are children at or under 14. Drowning is the top cause of death among toddlers aged 1-4, aside from birth defects. While death by drowning is tragic, even when a child is not fatally injured, drowning carries a huge risk. For every child who drowns, five more require emergency room treatment for submersion injuries. Among those needing emergency room treatment, half will need to spend additional time in the hospital to treat the injuries they received. Such submersion injuries can include brain damage, learning disabilities, memory problems, and even loss of basic functioning. Other common injuries caused in and around swimming pools include spinal cord injuries caused by diving in too shallow a pool and injuries caused by slipping and falling on excessively-slippery surfaces around the pool.
Homeowners with swimming pools must take this responsibility very seriously, and be proactive in preventing swimming pool injuries. Pools must be surrounded by secure fencing or walls that are at least 4 feet high and secured with a self-closing gate and child-proof lock. Additionally, all pools built after 2006 must have an alarm that can detect when a child enters the water. Swimming pools are subject to extensive additional regulations under New York state law. If you or your child is injured in a swimming pool accident when visiting a home where these important rules aren't followed, you may be entitled to money damages for any resulting injuries.
If you or a loved one have been hurt in an accident on someone else's property, get the money you need to pay for your medical expenses and pain and suffering by contacting the skilled and knowledgeable Hudson Valley personal injury lawyers at Rusk, Wadlin, Heppner & Martuscello for a consultation on your claims, at 845-236-4411 (Marlboro) or 845-331-4100 (Kingston).