Qualities to Seek in a Trustee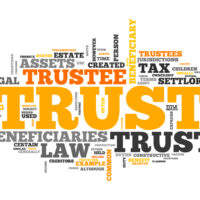 Perhaps after discussing your personal estate plan with your attorney, you have decided to create a trust. One important step in trust creation is choosing the right trustee. Below, find a list of considerations to keep in mind when choosing who you'd like to serve as the person in charge of your trust.
Choose someone who will be available
If you plan on having a trust that continues long after you're around, be sure to choose someone young enough to be around when they'll need to begin managing the trust's assets. Also, be sure to choose someone who will have the time to commit to managing the trust and won't need to hand off those duties to someone you don't know.
Choose someone with a basic level of business acumen
Managing a trust's corpus doesn't require a high-level finance wizard, but it does require someone with an essential understanding of what makes for a safe and stable investment. Choose someone who understands basic money management and is capable of completing necessary tax documents, but who can also identify when they may be in over their head and need to call in professional help.
Selecting a family member to serve as trustee can come with perils
You may be inclined to select your son or daughter to serve as trustee, especially if the trust assets are family businesses or real estate that require regular maintenance by someone close to these assets. However, money can make even close family members fight. Choosing one child over another, or selecting family members to work together as trustees, can foment infighting and distrust, and cause the management of the trust corpus to suffer.
Consider an outside choice who knows your wishes for the trust and understands the beneficiaries' needs
Selecting someone from within your family may be a good choice. But, you should keep in mind that sometimes it may be better to choose an independent third party to serve as sole trustee or as a co-trustee with a family member. Corporate Trustees, such as banks or financial management companies, can serve as trustees and carry out your wishes, and at the same time not be vulnerable to familial dramas. Regardless of whether you select a family member or an independent trustee, it is important that you discuss your wishes for the trust with your estate planning attorney and that your wishes are included in your trust agreement.
If you would like to speak with a New York wills and trusts attorney about your estate plan, contact the dedicated, experienced, and detail-oriented Hudson Valley estate planning attorneys at Rusk, Wadlin, Heppner & Martuscello, LLP for a consultation, in Kingston at 845-331-4100, and in Marlboro at 845-236-4411.