Research Shows that Rear Seats Leave Passengers Vulnerable to Injury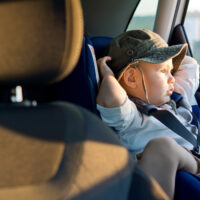 Car safety experts have long advised that, in order to keep children safe, they should ride in the back seat. A new study has found, however, that the front seat can offer greater protection to vehicle occupants than the rear in a crash. Read on to earn about the ways that researchers now believe car manufacturers should improve rear seat safety, and contact an experienced Kingston car accident lawyer if you've been injured in a crash in the Hudson Valley.
The Study
The Insurance Institute for Highway Safety (IIHS) is a research group that subjects passenger cars and trucks to extensive safety testing, typically going beyond that conducted by federal authorities. The results of their research has led to numerous changes in car safety standards and has spurred car manufacturers to implement new safety technologies in their vehicles.
The IIHS is now developing a standardized test to examine the safety of the back seat in new vehicles. For years, vehicle manufacturers have focused the bulk of their attention on the safety of front-seat occupants, having concluded that those riding in the front seat suffered more of the impact of a front-end collision. As a result, manufacturers developed safety technologies such as seat belt tensioners that would tighten when the car came to a sudden stop or would loosen when the belt became too tight, as well as both side and front airbags. Meanwhile, these types of technologies are rarely available for back-seat passengers. While rear-seat side-curtain airbags come standard on many vehicles, few have seat belt tensioners, nor front-impact airbags.
IIHS felt compelled to develop a test of rear-seat safety after conducting a study of 117 front-end crashes that resulted in serious or fatal injuries to rear-seat passengers. The study revealed that, in many of the 117 collisions, the injuries to those riding in the back were more severe than those to front-seat passengers. Additionally, the most common injury was to the chest, which is a form of injury that could be prevented through the use of seat belt tensioners.
Conclusions from the Research
The president of IIHS, David Harkey, explained that "manufacturers have put a lot of work into improving protection for drivers and front-seat passengers. Our moderate overlap front crash test and, more recently, our driver-side and passenger-side small overlap front tests are a big reason why. We hope a new evaluation will spur similar progress in the back seat." Now that car manufacturers understand how fixable shortcomings in rear-seat safety can lead to unnecessary serious or fatal injuries, they may face liability should they fail to implement improvements to vehicle safety that could have prevented a death or crippling injury.
If you or someone you loved has been injured in a New York traffic accident, get help seeking the money damages you're owed by contacting the seasoned, compassionate, and effective Hudson Valley car accident lawyers at Rusk, Wadlin, Heppner & Martuscello for a free consultation, in Kingston at 845-331-4100, and in Marlboro at 845-236-4411.