Recall by HP of Tens of Thousands of Dangerous Laptop Batteries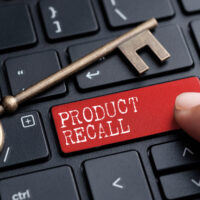 HP, one of the country's largest computer manufacturers, has recently issued a recall affecting thousands of its customers across the US. Read on to learn more about the reasons for the recall and what affected customers should do, and contact a knowledgeable New York defective product attorney if you've been injured by a dangerous consumer product in the Hudson Valley.
Customers at risk of fire damage from laptop batteries
In January of 2018, HP announced that it would be recalling certain laptop models manufactured between December of 2015 and December of 2017. According to the Consumer Product Safety Commission (CPSC), the recall includes roughly 50,000 laptops sold across the country, as well as thousands more sold in Canada. The CPSC explains that it has received reports from eight customers that the battery of their HP laptop either overheated, melted, or charred. Three of those who reported problems with the battery experienced property damage totaling $4500. Another suffered a first-degree burn to the hand when the computer's battery overheated.
Affected customers should take action right away to prevent burn damage
If you're an owner of an HP laptop, you can find out whether your model is included among those being recalled by checking the website HP has established to publicize which laptops are affected and manage requests for repairs related to the recall. The models affected in the recall include units from the HP ENVY, HP ZBook, HP Pavillion, and HP Probook lines.
If you do own one of the affected machines, HP encourages you to either stop using your affected laptop or immediately install a software patch which will disable the battery while the laptop is powered on. In order to continue using the laptop after installing this patch, you'll need to keep the computer plugged into a power source. On the HP website, you'll also find a way to request a replacement battery provided by HP. Due to the nature of the construction of these laptops, however, HP will have to send a technician to come and remove the defective battery and install the replacement in person. If you have experienced property damage or physical injury as the result of a defective HP laptop or other dangerous product, contact a seasoned Hudson Valley product liability lawyer as soon as possible to determine whether you should file a claim for money damages.
For assistance with getting compensation you're owed after an injury caused by a dangerous or defective product in New York, contact the dedicated and knowledgeable Hudson Valley product liability lawyers at Rusk, Wadlin, Heppner & Martuscello, LLP for a free consultation at 845-331-4100 in Kingston, or 845-236-4411 for our office in Marlboro.