Recognize Warning Signs of Elder Abuse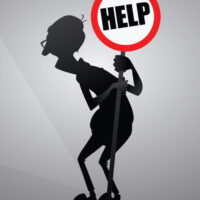 The average age of the American population is rapidly rising, as are the rates of elder abuse. If you have an elderly parent or relative, it's important to understand the threat posed by elder abuse, as well as what signs to look out for to determine if your loved one has been a victim. Read on to learn more, and speak with a knowledgeable New York personal injury and elder law attorney for more information.
Elder abuse a growing problem
The World Health Organization reports that about one in six seniors experienced some form of abuse in 2016. The organization estimates that, as the world's population ages, rates of abuse will rise. According to one study, 36% of all nursing home staff had witnessed at least one incident of physical abuse of a resident in a nursing home in the past year, and 10% admitted to committing at least one act of physical abuse. The National Ombudsman Reporting System has reported that state nursing home ombudsman programs received 14,258 complaints of abuse, gross neglect, or exploitation in 2014.
Elder abuse can cause long-term psychological damage to victims, as well as serious health consequences. Victims of elder abuse have been found to die prematurely at twice the rate of those who have not been victims of abuse. Abuse can often result in the victim suffering from anxiety, depression, or mood swings. These psychological conditions are in addition to the physical consequences of abuse, from which older victims are slower to heal.
Keep a watchful eye for signs of abuse
If your elderly relative is a resident in a nursing home, be sure to watch for indicators that your loved one is being abused, such as:
Bruising, lacerations, or welts for which there is no good explanation
Broken bones
Signs that your loved one is more depressed since moving into the nursing facility
Loss of weight
Unkempt appearance or poor hygiene
Indications that your loved one is dehydrated
Bed sores
Reluctance of caregivers to leave the resident alone with family
It can often be helpful to speak with other residents or their family members to discuss their experiences with the facility. Visit your loved one often, and take notes on any suspicions you may have about their condition or treatment.
If you believe your parent or loved one has been the victim of elder abuse in New York, get skilled legal help to pursue your rights under the law and contact the Hudson Valley nursing home abuse lawyers at Rusk, Wadlin, Heppner & Martuscello, LLP for a consultation on your case, at 845-331-4100 in Kingston, or in Marlboro at 845-236-4411.