Report Reveals Safety Shortcomings of School Bus Drivers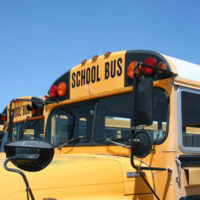 The Office of the New York Attorney General, Eric Schneiderman, recently released a report on the safety of school bus drivers, looking specifically at how often school buses are the recipients of red light camera tickets. The report reveals some troubling conclusions about the safety of the state's school bus drivers based on information that had not previously been disclosed to the public.
New York State has strict laws in place regarding the safety of school bus drivers. Drivers working for school bus companies must submit to medical examinations and defensive driving observations, as well as provide a detailed driving history. Drivers are also required to report any accidents or traffic convictions to their bus companies, who in turn must report those incidents to the state. If bus drivers accumulate nine or more points on their licenses within an 18-month period, they are disqualified from operating a bus. New York drivers are assessed three points for failing to obey a traffic signal, but no points are assigned for red light camera tickets. Unlike other traffic convictions, bus drivers and companies aren't required to report red light camera tickets to the state.
During October's National Bus Safety week, the New York Attorney General's office released a report on its investigation of the number of red light camera tickets issued for red lights run by school buses. The report focused on Westchester and Suffolk counties, which both have red light camera programs. The report revealed that school bus companies in just two counties in New York had received roughly 1,400 red light camera tickets for lights run by school buses. The report concluded that the state should be doing more to ensure the safety of child riders, including by requiring the reporting of red light camera tickets among bus drivers.
Attorney General Schneiderman had this to say about the report: "Every morning, more than two million New York children are put on school buses by families that trust they'll be safe. Unfortunately, New York law has a safety loophole big enough to drive a school bus through. Bus companies can rack up red light camera violations – yet have no legal obligation to report them to the state, or even use them as part of their evaluation of drivers. It's time for action to protect our kids by requiring bus companies to report red light violations to the state and the school districts they serve, and to use those violations in driver evaluations. We must crack down on the problem now, before it turns tragic."
If your child has been injured in a New York school bus accident or other motor vehicle accident in New York, find out if you have a right to money damages for any injuries by contacting the seasoned and trial-ready Hudson Valley personal injury attorneys at Rusk, Wadlin, Heppner & Martuscello, LLP for a consultation, in Kingston at 845-331-4100, and in Marlboro at 845-236-4411.