Research Shows Elevated Crash Risk in States with Legal Recreational Marijuana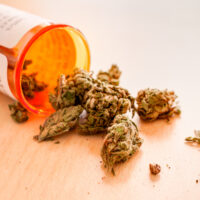 Believe it or not, five states (plus Washington, D.C.) have legalized the possession of marijuana for recreational use, and another 38 states provide at least minimal access for medical purposes. New York's Hudson Valley has recently acquired its own medical marijuana industry. Despite the increasingly widespread availability of the drug, relatively little research has been done on its effects, especially in regards to roadway safety. Two safety organizations have recently taken a look at data on marijuana's effects on accident rates, and they found a correlation between legalization of the drug and accident rates.
Until now, the effects of marijuana on an individual's ability to drive safely has not been subjected to extensive study. The research that does exist has largely been inconclusive. One study found that drivers who had recently consumed marijuana were twice as likely to be involved in a car accident. Another wide-ranging study conducted by the federal government found no association at all between marijuana use and increased crash rates. Unlike alcohol, marijuana can have very different effects on users regardless of their size or gender. This makes it difficult to implement hard and fast rules on what would be a "safe" quantity of marijuana to consume, and when, for users who are planning to drive.
One of the recent studies was conducted by the AAA Foundation of Traffic Safety using Washington state accident data. The study looked at the number of drivers with THC in their system at the time of a fatal accident in the year before and the year after marijuana became available for purchase. The study found that twice as many drivers were found to have THC (the active chemical in the drug) in their systems when a fatal crash occurred after marijuana became legal. Since THC can remain in the system long after the intoxicating effects have worn off, this result could be the result of correlation rather than causation, but it is nevertheless important for lawmakers to consider.
The Highway Loss Data Institute (HLDI) examined the rate of collision claim reports in three states that had recently legalized recreational marijuana use (Colorado, Washington and Oregon) and compared them to those of neighboring states. Collision claims are those filed for physical damage after a crash, and are typically filed by the at fault driver themselves. The study found that, while rates varied among the three states, the rates increased by 3% in states that permitted the legal sale of non-medical marijuana.
If you or someone you love has been injured in a crash with an intoxicated driver in New York, find out if you have a right to money damages for your injuries by contacting the knowledgeable, dedicated, and determined Kingston car accident lawyer at Rusk Wadlin Heppner & Martuscello, LLP for a consultation on your case, in Kingston at 845-331-4100, and in Marlboro at 845-236-4411.