What are the Rideshare Regulations? Rideshare Insurance & Rules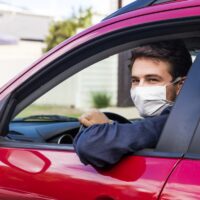 Rideshare companies like Uber and Lyft have rapidly taken over the taxi industry in New York and countrywide. While rideshare apps have created unprecedented ease of access to commercial taxi services, it's easy to forget that the barrier to entry for rideshare drivers has been lower than for other professional drivers. If an Uber or Lyft driver does cause an accident, what happens? What regulations are in place to protect people injured by negligent rideshare drivers? Continue reading to learn about the rideshare rules in New York, and call a seasoned New York car accident attorney if you or a family member has been injured in a rideshare crash in the Hudson Valley.
Requirements to Be a Rideshare Driver
New York law classifies rideshare businesses as "transportation network companies" (TNC). TNC drivers are subject to specific regulations by the state. In New York City, a driver for a TNC must also be authorized separately by the New York City Taxi & Limousine Commission.
At a minimum, rideshare drivers must be at least the age of 19, must pass a background and fingerprint check, and must carry the requisite minimum auto insurance. Drivers need only carry a valid NYS driver's license, rather than a special commercial driver's license.
Minimum Insurance Requirements for Rideshare Drivers
Under New York's TNC Act, rideshare drivers must carry certain minimum levels of insurance coverage to protect passengers and other motorists in the event of an accident. The TNC Act applies to the entire state other than New York City (because NYC already enforces sufficiently strict requirements through the New York City Taxi & Limousine Commission) and any county that chooses to opt-out to enforce its own regulations.
The minimum amount of insurance coverage required varies depending on whether a driver already has passengers in the vehicle. Under state law, TNC drivers must carry the following levels of insurance coverage:
Rideshare drivers who have logged on and are searching for passengers but have no passengers in the car must have a policy that covers at least $75,000 per person for death or bodily injury, $150,000 per accident for death and bodily injury, as well as $25,000 for property damage to others (a/k/a 75/150/25 coverage).
If the Uber/Lyft driver has a passenger in the vehicle, their insurance must cover significantly higher damage limits. Drivers who have accepted a passenger and are driving to their destination must carry at least $1.25 million minimum liability insurance for injury and death, as well as $1,250,000 in supplemental uninsured/underinsured insurance.
Personal Auto Insurance Might Not Cover Rideshare Accidents
All drivers in New York are required to carry auto insurance. However, a typical auto insurance policy will likely not be sufficient for drivers who perform rideshare. Driving in exchange for payment qualifies as a form of commercial driving, which most personal auto insurance policies exclude. Rideshare drivers must either purchase separate commercial driver policies or ensure that they have coverage through their rideshare company.
Uber & Lyft Provide Insurance for Drivers
Uber and Lyft do provide insurance coverage for their drivers. However, whether that insurance kicks in depends on whether the driver is on the app and has a passenger. Under certain circumstances, drivers could be left without appropriate coverage. The periods for coverage under Uber and Lyft policies are as follows:
Off-duty. The app is off and the driver is operating their vehicle for personal use. Uber and Lyft insurance does not cover the driver, but the driver's personal auto insurance policy will.
App on, waiting for a request. Uber and Lyft provide insurance coverage in line with state and local requirements.
En route to pick up passengers or during a ride. Uber and Lyft provide insurance coverage in line with state and local requirements.
If you or someone you love has been hurt in a rideshare accident in New York, find out if you have a right to compensation for your injuries by contacting the dedicated and trial-ready Hudson Valley traffic accident lawyers at Rusk, Wadlin, Heppner & Martuscello, LLP for a free consultation at 845-331-4100 (Kingston) or 845-236-4411 (Marlboro).