Risks of Home Fires Increase During Cold Weather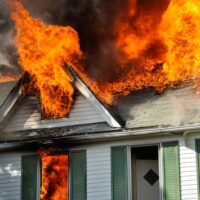 In cold climates such as the New York Hudson Valley, home fires often spike during the wintertime. Read more about the risks of a fire in your home, and learn ways you can prevent these fires from injuring family members or destroying treasured personal possessions.
Heating poses a fire risk
December, January, February and March are the months that see the greatest number of home fires in the U.S. While the leading sources of home fires are kitchen and cooking accidents, the second most common cause is home heating. In examining all home fires between 2009 and 2013, the U.S. Fire Administration attributed some 56,000 home fires each year to faultily manufactured or operated heating equipment, causing 470 deaths and $1 billion in damage to property. In order to prevent these sorts of fires, homeowners are encouraged to ensure that chimneys and fireplaces are regularly cleaned, and to operate space heaters or other heating implements with plenty of open space around them, to prevent the heater from sparking a blaze with nearby flammable materials like blankets and upholstery. Additionally, certain heating sources can cause carbon monoxide leaks, which can also be deadly. Use carbon monoxide detectors throughout your home to prevent these silent, odorless gases from accumulating in dangerous quantities.
Keep smoke alarms in working condition
One study conducted by the U.S. Fire Administration discovered that, while only an estimated 2% of all homes in the U.S. do not have a working fire alarm, no working fire alarm was present in a quarter of all homes that experienced a serious fire. While it can be tempting to deactivate a smoke alarm that goes off too frequently, having a working smoke alarm in every room can mean the difference between putting out a small flame yourself versus having to wait for emergency personnel to arrive to try to save your home from a raging blaze. Be sure to test smoke alarms regularly and replace alarms every ten years.
If you have been injured in a fire in your home in New York or experienced property damage as a result of a fire caused by a defective product or condition, contact the knowledgeable and dedicated Hudson Valley personal injury lawyers at Rusk, Wadlin, Heppner & Martuscello for a consultation on your claims, in Marlboro at 845-236-4411 or at 845-331-4100 in Kingston.