Rollover Accident in Newburgh Injures Five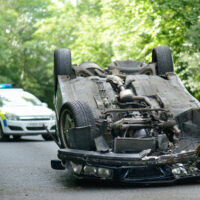 A recent crash in Newburgh, believed to have been caused by drunken driving, sent five people to the hospital, with one in critical condition. The accident raises questions about the safety of 15-passenger vans, one of which was involved in the crash.
The accident at issue occurred on Friday, December 9, 2016. The driver of a 2012 Hyundai Elantra, believed to be intoxicated at the time, was traveling north on I-87 when she struck the rear end of a 2013 Ford Econoline van. This caused the van to roll over. In the process, one of the van's passengers was ejected from the vehicle and struck by the driver of a 2006 Subaru Forrester. The driver of the van and three of the four passengers were taken to St. Luke's Hospital with minor injuries, and the woman who was struck by the Forrester was taken to Westchester Medical Center in critical condition. Neither the driver of the Elantra nor the Forrester was injured, and the driver of the Elantra was later charged with a misdemeanor count of driving while intoxicated and a felony count of vehicular assault.
15-passenger vans have drawn negative attention from federal regulators and safety advocates alike in recent years. A study conducted by the National Transportation Safety Board (NTSB) discovered that 15-passenger vans are far more likely to roll over than other vehicles. In the ten years between 1994 and 2014, 1,512 vans were involved in fatal crashes. In 2004 alone, 120 people were killed in crashes as an occupant of a 15-passenger van. Eighty-one percent of all fatalities resulting from 15-passenger van crashes result from single-vehicle rollover accidents. Frequently, drivers of 15-passenger vans fail to inflate the vans' tires sufficiently, as their tires require far more air than a standard passenger vehicle's tires would. When passengers and cargo are added in, the center of gravity shifts, making it far more likely that a driver would lose control of the vehicle when an emergency arises. Frequently, passengers don't wear seatbelts when riding in 15-passenger vans; when these vans roll over, the passengers are then thrown from then vans, making a fatal injury far more likely. Drivers of these vans are urged by the NTSB not to overload the vans with passengers or cargo, to maintain tires carefully, and to remember that vans react differently when in an emergency situation, and drivers must take care to react and steer accordingly.
If you or someone you love has been injured in a crash in New York, find out if you might have a claim for damages as a result of the crash by contacting the dedicated and effective Kingston auto injury lawyers at Rusk Wadlin Heppner & Martuscello, LLP for a consultation on your case, at 845-331-4100 (Kingston), or 845-236-4411 (Marlboro).