Samsung Recalls Galaxy Note 7 Due to Threat of Fire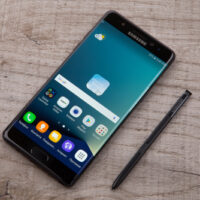 Samsung, the world's highest-selling phone manufacturer, has issued a massive recall of the recently-released Galaxy Note 7, one of its most popular devices. The devices were recalled after numerous reports describing the devices bursting into flame began surfacing.
The recall was officially issued by the Consumer Product Safety Commission (CPSC). According to Elliott Kaye, CPSC chairman, the recall will include roughly 1 million devices in the US alone, due to a serious threat that the devices will catch fire. "I am urging all consumers to take advantage of this recall right away," Kaye stated in a press conference. The CPSC had earlier announced that consumers should no longer purchase the devices, and if they had purchased them, should turn them off to avoid starting a fire.
So far, Samsung has received 92 reports from across the US that describe the Note 7 batteries overheating. Unfortunately, these reports have included 26 incidents of burns and 55 incidents of property damage caused by the phone. Fires have reportedly been started in cars and garages by the faulty devices. The manufacturer has stated that the batteries included in the majority of Note 7s sold in the US and nine other countries were faultily manufactured, so that their terminals could spark and cause a blaze. This damage caused by the defective devices could result in countless lawsuits, seeking damages for the expense incurred by customers who had a right to expect these devices to be functional and safe to use.
Samsung is offering consumers the option of returning their Note 7 devices for a refund, waiting until the revised version of the device arrives in stores, or exchanging the Note 7 for a Galaxy S7 or Galaxy S7 Edge. Customers will also be entitled to a $25 gift certificate to compensate them for the hassle of the recall. The recall applies to devices purchased between August 2016 and September 15, 2016. Note 7 owners can find out if their phone is one of the recalled devices by looking for a code etched on the bottom of the back of the device, and entering that code into the recall section of the Samsung website. The company states that approximately 97% of the phones sold in the US will qualify for a refund or replacement.
If you or someone you love has been injured by a dangerous or defective product, seek the compensation you're owed for the manufacturer or distributor's negligent conduct in selling a defective product, and contact the seasoned, knowledgeable, and aggressive Hudson Valley products liability lawyers at Rusk, Wadlin, Heppner & Martuscello, LLP for a consultation on your claims, in Marlboro at 845-236-4411, or in Kingston at 845-331-4100.