Serious Six-Vehicle Crash on I-84 Under Investigation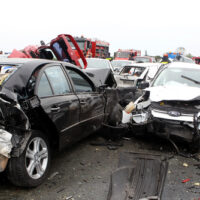 Montgomery was recently the site of a serious crash that involved six vehicles, two of which were tractor-trailers. The accident occurred on a stretch of road that is limited by construction, and some have speculated about the role of the construction in causing the accident.
The series of collisions occurred near Exit 5 of Interstate 84, on a portion of the highway where one of the two lanes is closed due to nearby construction on the bridge near Beaver Dam Road. Four vehicles were stopped in the left lane: a 2016 Hyundai Santa Fe, a 2016 Freightliner tractor-trailer, a 2014 Mitsubishi Outlander, and a 2003 Sprinter van. The fifth vehicle, a 2010 Dodge truck, had begun to slow down as it approached the stopped traffic, when it was rear-ended by a 2004 Freightliner tractor-trailer. The Dodge rolled over and into the median, but the 2004 Freightliner continued traveling into the four stopped cars, squeezing the Mitsubishi and Sprinter between the two Freightliners and sending the 2016 Freightliner into the rear of the Hyundai. The passenger riding in the Sprinter van was killed in the accident, and the remaining victims were taken to nearby hospitals. According to one witness, 20-foot-long tire skid marks left by the 2004 Freightliner could be seen on the road leading up to the site of the crash. Authorities are continuing to investigate the circumstances surrounding the accident, and as of last report, no charges have yet been filed.
This was the second serious crash to occur that week on the portion of I-84 near the bridge currently under construction. Roads under construction are the sites of a disproportionate number of accidents. These areas are often marked by loose gravel which can interfere with vehicle control, slowed speeds, defects in the road, changes in which lanes are open or closed, and modified speed limits. While drivers have a responsibility to pay attention to conditions of the road, municipalities completing the construction must make driving conditions as safe as possible and provide adequate signage warning of any lane closures, hazards in the road, or shifts in the direction of traffic. If a government entity was responsible for creating excessively dangerous conditions in the road, that entity may be financially liable to accident victims for its role in causing a crash.
If you or a loved one has been hurt in a car accident that may have been caused by roadway construction or a road defect, get help in recovering the damages you're owed for your medical expenses, lost work, and pain and suffering by contacting the skilled and compassionate Kingston lawyers for car accidents at Rusk Wadlin Heppner & Martuscello for a free consultation at 845-236-4411 (Marlboro), or 845-331-4100 (Kingston).