Slip-and-Fall Accidents Can Cause Serious Ankle Injuries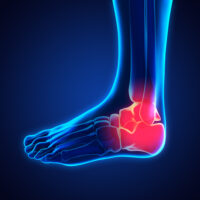 There are many important reasons that property and business owners have a legal obligation to keep their property well-maintained and free from tripping hazards. Trip-and-fall accidents can cause serious injuries for victims–and not just for the elderly or those with disabilities or pre-existing conditions. Even visitors and customers who are in good physical condition can suffer complex and painful injuries from a slip-and-fall accident.
Among the most common injuries to slip-and-fall victims is injuries to the ankle. Ankle injuries are often responsible for lasting pain and disability, and they often require prolonged rehabilitation when serious. Learn more about ankle injuries after a slip-and-fall below, and contact a Hudson Valley premises liability lawyer if you've been injured in a trip-and-fall accident.
How ankle injuries happen
When you trip or miss a step, your body often tries to catch itself by landing hard on the most available limb, and often at an odd angle. When your leg is sideways, this can cause you to miss landing on your foot, and to instead land on a sideways or hyperextended ankle. The ankle involves many separate parts, resulting in many different possible injuries when tripping and falling.
Types of ankle injuries
The body part we call the ankle is actually a combination of three different bones, as well as multiple tendons, ligaments, and tissues. The two bones in your leg (the tibia and fibula) sit on top of a bone in your foot (the talus), and are held together by a layer of protective fluid-holding tissue (the synovium). Multiple ligaments and tendons surround the synovium to hold the ankle in place.
Sprains and strains occur when the ligaments surrounding the ankle become stretched or damaged. Depending on the severity of the sprain or strain, victims may need months to make a full recovery.

Fractures in the ankle involving any of the ankle's three bones can require prolonged time to heal or repair via surgical procedure, since the ankle itself is surrounded by so much protective tissue.

Serious damage to ligaments and tendons from sprains can cause longer-lasting injuries. When a sprain results in a complete tear of a ligament or tendon, your ankle's stability can become compromised long-term.
If you've been injured in a New York slip-and fall accident, find out if you have a right to money damages for your injuries by contacting the knowledgeable and professional Hudson Valley personal injury lawyers at Rusk, Wadlin, Heppner & Martuscello, LLP for a consultation, at 845-331-4100 (Kingston), or at 845-236-4411 (Marlboro).