Special Driving Considerations for Seniors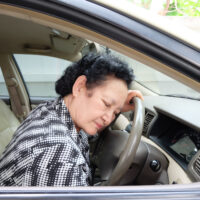 Driving is a big part of how many of us maintain our independence. In areas with less robust public transportation systems, driving may be the only way we can shop for groceries or get to doctor's appointments. However, as we age, our ability to react quickly to changing stimuli or even to spot hazards on the road can decay. Statistics show that drivers over 65 are involved in more car accidents than younger adult drivers. Not only could you be at risk to injure others in an accident, but your own ability to heal after a serious crash will be diminished, making it important that you carefully monitor your safety as a driver as you age.
Renewing your license in New York
In New York, all drivers must undergo a vision test when renewing their driver's license every two years, but no additional testing requirements are automatically imposed once a driver reaches a certain age. If the DMV has a specific reason, such as an incident behind the wheel or report from another driver or police officer, they can compel a senior driver to have their driving skills re-evaluated. This may involve an interview with DMV personnel, production of a doctor's note attesting that you're still able to drive safely, or taking a written or behind-the-wheel test.
Warning signs of slipping ability
Rather than waiting for an incident to occur on the road, stay vigilant about your ability to drive safely. Take note if your attention span isn't what it used to be, if you find yourself getting lost in familiar places, if you get honked at or yelled at often by other drivers, or if you experience a number of "close calls" on the road. Some of the most common causes of accidents involving seniors involve poor judgment, such as when deciding if it's safe to make a left turn or merge lanes.
Evaluate your driving skills
If you feel like your driving abilities may be slipping, there are various ways that you can test your driving abilities. The AAA offers a self-evaluation survey that provides a way for drivers to find out if they've developed bad habits or judgment deficiencies while on the road, and also offers suggestions for ways to improve trouble spots. Your physician can also provide an evaluation of your driving abilities based on their assessment of your vision, hearing, and mental sharpness. There are also private companies which can provide behind-the-wheel assessments of your driving abilities. Additionally, consider taking safe driving refresher courses, such as the AARP Smart Driver course. Such courses can even save you money on your New York car insurance policy.
If you or someone you love has been injured in a car accident in New York, contact the compassionate and knowledgeable Kingston auto injury lawyers at Rusk Wadlin Heppner & Martuscello, LLP for a consultation on your case, at 845-331-4100 for our Kingston office, or 845-236-4411 in Marlboro.