Study Finds Strollers and Carriers Involved in Hundreds of Thousands of Accidents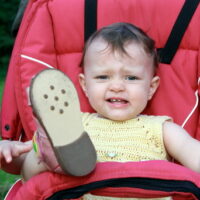 When you're raising an infant or toddler, you want to ensure their safety and comfort at all times. Finding the right equipment that will keep them safe, as well as ensuring that squirming children remain securely buckled into carriers and strollers at all times, can be challenging. Unfortunately, some of these safety concerns are not baseless. A recent study has found that, on average, two children are sent to the hospital every hour with injuries related to a stroller or carrier.
The study, published in American Pediatrics, looked at data gathered by hospitals when children were admitted with injuries, including the causes of the injuries cited by parents and the type of injury the children had received. The researchers found that, between 1990 and 2010, nearly 361,000 children aged 5 and younger had been admitted to the hospital with stroller- or carrier-related injuries. The most common reason for the injuries were that the child fell out of the stroller or carrier, cited in 67% of all stroller accidents and 63% of all carrier accidents. The device tipping over was cited as the cause in 16% of stroller accidents and 29% of all carrier accidents.
Injuries for many of these accidents were not serious, largely consisting of bumps and bruises. However, a large share of these accidents –43% of all stroller injuries and 62% of all carrier injuries– resulted in injuries to the head. "The majority of injuries we saw were head injuries which is scary considering the fact that traumatic brain injuries and concussions in young children may have long-term consequences on cognitive development," said Kristi Roberts, author of the study and a research associate at the Center for Injury Research and Policy at Nationwide Children's Hospital. Over the course of the study, 25% of all stroller injuries and 35% of all carrier injuries were diagnosed as some form of traumatic brain injury, such as a concussion. However, the rate of traumatic brain injury diagnosis increased as the years went on, so that by 2010, 42% of all children injured in stroller accidents and 53% of all children injured in carrier accidents were diagnosed with a form of traumatic brain injury. Roberts noted that, while stroller and carrier manufacturers have updated their safety standards in recent years, the rate of injury was still "unacceptably high," and that the high number of injuries shows that more needs to be done so that parents can trust the safety of the stroller or carrier in which their children travel.
When using a stroller or carrier, be sure to buckle your child in securely. Don't hang heavy bags from stroller handles, and use wheel locks when remaining in place. Don't hold carriers too high above the ground, to shorten the distance of a fall. Additionally, always check to see if a recall has been issued by the Consumer Products Safety Commission for the carrier or stroller you plan to use.
If you are a New York resident and you or your child has been injured by a defective stroller or carrier, or has otherwise been hurt by a dangerous product, contact the skilled and effective Hudson Valley product liability attorneys at Rusk, Wadlin, Heppner and Martuscello, LLP for a consultation on your case, at 845-331-4100 in Kingston, or 845-236-4411 in Marlboro.