Survey of Drivers Reveals Common Practice of Dangerous Behaviors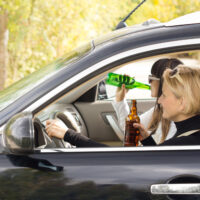 A recent survey of US drivers reveals that, despite knowing what the safe choice is and agreeing that it is the safest possible choice, they still don't always make that choice for themselves. The AAA Foundation for Traffic Safety recently released its annual Traffic Safety Culture Index, which shows a substantial disconnect between what behaviors drivers think are safest, and how they drive themselves.
Participants reveal their driving habits over the previous 30 days
The AAA Foundation's survey was conducted last fall, between August 25 and September 6 of 2016. The survey polled over 2,500 individuals who had reported driving in the past 30 days on their opinions of dangerous driving behaviors. These included driving under the influence of drugs or alcohol, driving drowsy, distracted driving, and aggressive driving. The survey also asked the drivers whether they had committed any of those behaviors themselves within the past 30 days. According to the poll, the majority of drivers acknowledged the danger of certain driving habits, but nevertheless engaged in them.
Drivers particularly conflicted over distracted driving
Drivers' viewpoints and habits regarding phone use while driving were particularly conflicted. Over 80% of all those polled felt that it was a serious safety threat to send emails or text messages while driving, and 70% felt that hand-held cell phone use while driving is unsafe. Despite this fact, over 40% of all drivers reported having read a text or email while driving during the past 30 days, and over 66% had talked on the phone while driving in the past month. Over 30% of all drivers admitted to having recently typed a text or email from behind the wheel while driving.
Drivers also seemed to believe and practice different habits in regard to driving under the influence and driving without a seatbelt. Nearly all drivers surveyed agreed that both drunk driving and driving without a seatbelt were highly unsafe behaviors. Nevertheless, 12% of all drivers admitted that, within the past year, they had felt themselves close to the legal blood alcohol limit, but decided to drive anyhow. Additionally, while nearly everyone surveyed agreed that driving without a seatbelt was unsafe, 20% of survey participants didn't always wear one.
If you or someone you love has been injured by an aggressive, distracted, or drunk driver in New York, contact a determined and effective Kingston car injury lawyer of Rusk Wadlin Heppner & Martuscello, LLP for a consultation, at 845-331-4100 (Kingston), or at 845-236-4411 (Marlboro).