The Bankruptcy Trustee and U.S. Trustee, and How They Affect Your Bankruptcy Case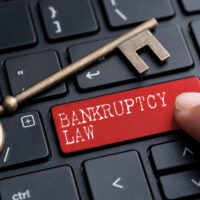 One of the first things that the bankruptcy court does after you file a petition for bankruptcy is to assign a trustee to handle your case. The trustee can play a significant role in your bankruptcy by making numerous important decisions throughout the life of your case. Learn more about the job of the bankruptcy trustee, and find out how the bankruptcy trustee and U.S. Trustee differ, below.
What does the trustee do?
One of the bankruptcy trustee's main roles is to examine your bankruptcy filing and make sure it is an accurate representation of your assets and debts. The trustee will attempt to verify the information you've provided through outside sources to ensure that it is truthful, and will search for evidence of fraud in your filing. The trustee may request additional documents from you regarding your finances.
Another important role performed by the trustee is to conduct the hearing known as the 341(a) meeting of creditors. The trustee will place you under oath and ask questions about the information produced in your bankruptcy petition during this hearing, and will offer an opportunity to any creditors who attend your hearing to ask questions, as well.
In a Chapter 7 filing, the bankruptcy trustee will be in charge of valuing your property and liquidating any nonexempt assets. In other words, if you own any property that is not covered by an exemption, the trustee will sell that property and use the proceeds towards the debts you owe to your creditors.
The U.S. Trustee as overseer
While the names sound very similar, the role of the U.S. Trustee is entirely different from that of the bankruptcy trustee. The U.S. Trustee is the central office which oversees all bankruptcy cases across the country. If a bankruptcy case was filed under Chapter 7, but the debtor does not meet the income and asset requirements for that chapter, the U.S. Trustee has the job of notifying the debtor of this fact and either dismissing the case or converting it to a Chapter 13 case. If your bankruptcy trustee identifies some evidence of fraud or deceit within your bankruptcy petition, then the U.S. Trustee will intervene in your case. In most cases, the average petitioner doesn't interact with the U.S. Trustee.
If you're considering filing for bankruptcy in New York, contact the experienced and detail-oriented Hudson Valley bankruptcy attorneys at Rusk, Wadlin, Heppner & Martuscello, LLP for a consultation, in Marlboro at 845-236-4411, or in Kingston at 845-331-4100.