Three Ways to Make Custody Sharing During the Holidays a Little Easier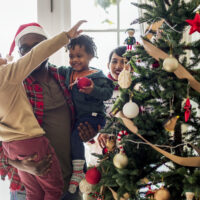 Dividing custodial time between yourself and your former spouse during the holidays is even harder than normal. If this is your first holiday season without your spouse, you may be feeling that the sting of the divorce has really set in. The reality of the split may just be setting in for your kids, as well. However, there are ways to make the holidays feel celebratory for your kids—and in the process, you may find yourself with a bit more holiday cheer as well.
Try to finalize where your children will be in advance, without court intervention
Ideally, a consideration of holiday time was included in the custody order setting your visitation arrangement during the course of your divorce. If you and your spouse are still in the process of divorcing, you may have to make holiday arrangements between yourselves. This is a great opportunity to model generous, patient, and giving behavior for your children, instead of succumbing to the temptation to fight to the death for what you want. Starting the holidays off with a battle will set a tense and acrimonious tone for the remainder of the season for both you and your children. If your children are on an extended break from school, don't neglect to determine where they will be staying during the break, and make sure that you and your spouse are on the same page.
Go ahead, have Christmas or Hanukkah twice
While you may not be able to see your children on the day you most wish you could, there's little stopping you from keeping the celebration going. Instead of robbing yourself of a Christmas or Hanukkah celebration with your kids, you won't hear much complaining from the children if they have twice as many big holiday meals and gifts to unwrap. You can even present it as a bonus—their friends at school might only get one holiday, but your kids get two! This also gives your children a chance to spend more time with family, reinforcing those bonds at a time when family relationships might seem fraught for your children.
Create new traditions
Your holidays will inevitably look very different for you and your children after a split. The kids may not get to go with dad to pick out a Christmas tree, or help mom shred potatoes for latkes, but that doesn't mean you can't have other activities for the kids that can develop into new traditions for your family. Instead of dwelling on what you won't be able to do this year, and who won't be present, direct your kids' energy to new ways to celebrate the season.
If you need legal assistance for a New York divorce or custody arrangement, contact the experienced family law attorneys at Rusk, Wadlin, Heppner & Martuscello for a consultation, at 845-331-4100 in Kingston or 845-236-4411 in Marlboro.