Top Five Things to Do After a Car Accident in New York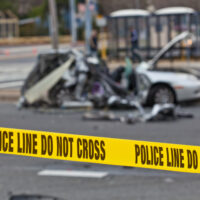 No matter the severity, car accidents are nerve-wracking and disorienting, leaving you anxious about what will happen with the other driver and how you'll get the money you need to repair your car and cover your medical bills. The next time you're in an accident, remember to take the following steps to ensure you're prepared to file a successful claim for damages, and contact a New York car accident lawyer as soon as possible after your crash.
Get out of harm's way, and find out if there are injuries

Immediately after a crash, check to see whether anyone in your car, on the street, or in the other car involved has been injured, and, if so, notify the authorities right away. Even if injuries are not serious, New York law states that the police must be called anytime an accident causes physical injury or death. Be cautious about oncoming traffic if your car is blocking lanes. If possible, move your cars to a safe space out of the way of moving vehicles, but try to document your cars' positions before doing so.

Take photos and speak with bystanders

You are required by law to exchange information with other drivers or property owners anytime an accident results in property damage or injury. Take note of their name, license number, vehicle registration, and car insurance information. Use your camera to take photos of the damage to the other car, as well as your own. If anyone near the scene of the crash appears to have seen the accident, get their contact information in case you might want to ask them to testify at trial or in a deposition.

Report the accident

Any accident that resulted in over $1,000 in damage must be reported to the New York Department of Motor Vehicles within ten days of occurring. You can get a copy of this report, as well as of any police report, by contacting the DMV or local police station. It is equally important that you report the accident to your car insurance provider as soon as possible. Insurers must receive written notice of an accident within 30 days of an accident. If you fail to meet this deadline, you may be prevented from receiving benefits for your accident. An attorney can help you complete the necessary forms and gather evidence supporting your claim for benefits.

Seek a doctor's care

Some injuries from car accidents don't manifest right away, or don't result in the symptoms you might expect. It is important, therefore, to seek the care of a doctor as soon as possible after an accident. If you fail to quickly discover and seek treatment for injuries which were caused by your accident, you may be prevented from receiving compensation for those injuries.

Contact an experienced personal injury lawyer

Even if you believe your insurance will cover the full cost of your accident expenses, it is helpful to speak with a lawyer about your claim. A lawyer can help you file a successful claim with your insurer so that you get compensation right away, rather than having to appeal denials and engage in lengthy negotiations. If it appears that you'll need to file a lawsuit to make a full recovery based on your injuries, having a lawyer who is already familiar with your case will help expedite the process and get your claims resolved faster.
If you've been injured in a car accident or truck crash in New York, seek help getting the money you deserve for your claims by contacting the knowledgeable and effective Kingston car accident lawyers at Rusk, Wadlin, Heppner & Martuscello, LLP for a consultation, at 845-236-4411 in Marlboro, or 845-331-4100 in Kingston.