Train Crash May Have Resulted from Engineer's Sleep Apnea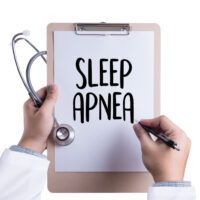 Investigators looking into a fatal train crash that occurred earlier this year have recently discovered that the engineer operating the train suffered from a severe case of sleep apnea. While many transportation and carrier companies currently screen for sleep apnea, many sectors of the transportation field lack clear regulations on the issue. Read on to learn about the danger of sleep apnea in drivers.
The crash occurred in September of 2016 in New Jersey, when an engineer entered a Hoboken train station traveling at three times the posted speed limit of 10 mph. The engineer, a 48-year-old man named Thomas Gallagher, had no memory of what happened in the moments before the crash; he can only recall coming to consciousness on the floor of his cab after the crash occurred. The impact of the train in the station caused the roof of the station to cave in, killing one woman who had been standing on the platform, and injuring 100 passengers. While Gallagher was provided with medical clearance in July of 2016 to continue working as a train engineer, he was found to have a severe case of sleep apnea when tested in November.
Sleep apnea causes the sufferer's airway to close periodically while they sleep, making them wake up dozens or hundreds of times a night. This can produce extreme exhaustion, making one fall asleep in short bursts throughout the day due to the poor quality of sleep at night. This condition can cause job performance to diminish in many individuals, but few as profoundly as those who operate large commercial vehicles, where the risk of serious personal injury to others is on the line.
Sleep apnea testing has become somewhat of a controversial topic among employees in the transportation industry. Currently, the Federal Motor Carrier Safety Administration (FMCSA), the federal body responsible for making rules governing commercial long-haul truck drivers, has no rule that addresses testing for sleep apnea, specifically, but instead mandates that anyone with a commercial driver's license must be deemed medically fit to drive a commercial motor vehicle. Many medical examiners choose to test for sleep apnea where an applicant's body mass index (BMI) is over a certain amount, but the test is not mandated under federal law.
Train engineers working for New York's Metro-North Railroad are tested for sleep apnea, after a 2013 crash that took the lives of four people was caused by an engineer losing consciousness while behind the train's controls. According to Metro-North spokesman Aaron Donovan, of the 438 engineers working for the train line, 51 have been found to suffer from sleep apnea and are now undergoing treatment. While rigorous testing of engineers for sleep apnea is critical, it may not always solve the issue. Testing for sleep apnea is also mandatory for the engineers working for New Jersey Transit, but Gallagher and his serious case of sleep apnea nevertheless slipped through the cracks.
If you have been injured by a negligent or reckless commercial driver in a train, bus, or truck accident in New York, contact the seasoned and compassionate Hudson Valley personal injury lawyers at Rusk, Wadlin, Heppner & Martuscello, LLP for a consultation, at 845-236-4411 (Marlboro), or 845-331-4100 (Kingston).