Trench Digging Accidents Draw Attention of OSHA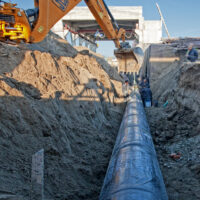 Trench-digging and excavation are two of the most technical and dangerous jobs that can take place on a construction site. As a result, trenching and excavation are special areas of concern to the Occupational Safety & Health Administration (OSHA). The death of a young worker in a trenching accident in Manhattan, and subsequent criminal prosecution of the responsible contractor, has brought attention to the dangers of trenching and excavation. Additionally, OSHA has itself recently begun to crack down on contractors for trenching and excavation-related violations.
The death of Carlos Moncayo in June of 2015 seemed to serve as a wake-up call to Manhattan prosecutors, who had long been aware of the growing problem of construction worker deaths on job sites but had failed to take action. The 22-year-old Moncayo was working as a non-union laborer on a construction site in the Meatpacking District when he was crushed by a collapsed trench. An investigation conducted by OSHA and the New York City Investigation Department uncovered that the trench was structurally unsound. Manhattan District Attorney Cyrus Vance made the unusual choice to file criminal charges against the parties responsible for the sub-par safety conditions at the job site. The general contractor, Harco Construction, was found guilty at trial of second-degree manslaughter, criminally negligent homicide, and reckless endangerment. The company was ordered to pay the costs of public service announcements on worker safety, but it has so far refused to comply with the order.
OSHA has also been taking a stronger stance on requiring compliance with its important regulations governing trenching and excavation. OSHA requires that companies follow strict rules requiring that trench walls are at an angle that discourages collapse, that excavated debris and equipment is kept away from trench openings, and that wall reinforcements are used to support deep, narrow trenches. The safety agency has recently imposed substantial fines on noncompliant companies across the country. An Alaska contractor is facing a $560,000 fine OSHA imposed after the death of an employee in a trench collapse accident. Likewise, two Texas companies were fined over $120,000 for willful violations of trench safety rules, including failing to maintain safe excavations and failure to provide trench guardrails or walkways.
If you've been injured in a New York trenching or excavation accident, or have otherwise been hurt on the job site, contact the knowledgeable and effective Hudson Valley construction accident lawyers at Rusk, Wadlin, Heppner & Martuscello, LLP for a free consultation on your case, in Kingston at 845-331-4100, and in Marlboro at 845-236-4411.