Trip-and-Fall Victim Defeats Summary Judgment Motion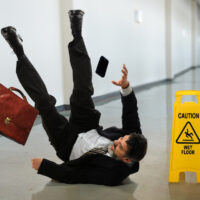 A recent case decided by a Westchester County Supreme Court judge has found that the validity of a trip-and-fall claim does not depend on the height or size of a crack in the sidewalk alone, but instead should be evaluated based on an analysis of all circumstances surrounding a fall.
In Aviles v. Putnam Park Properties, LLC, the plaintiff, Blanca Aviles, was hurt when descending a short set of stairs in front of her building. On the day she was moving out of her Port Chester apartment in September of 2010, she tripped on a crack in the top step in a set of three cement stairs leading out of her building while carrying a large bag of her clothing. Aviles reached out reflexively for the handrail along the stairs, but found the rail unstable, was unable to correct her fall, and was seriously injured. The crack in the stair, according to photos submitted by the parties, left a ½" chip in the stair. The defendants — the property owner and maintenance company—filed a motion to dismiss the plaintiff's claims, arguing that the property owners didn't know about the chip in the stair, and that it was too trivial a defect to support a lawsuit for personal injury damages.
In New York, premises liability claims (claims against property owners for injuries caused by some hazard on their property) require injured plaintiffs to prove that the owner knew or should have known that there was a potential tripping or slipping hazard on their property. Owners who either rent out their property or otherwise invite the public to their property have an obligation to maintain the space in a safe condition. This requires the owner to regularly inspect property for defects, and to repair any hazards that arise in a reasonable amount of time.
New York case law governing premises liability for slip-and-fall injuries states that the property owner should not be held liable for the cost of injuries that resulted from a "trivial" defect. The court's opinion explained that "trivial" meant "not constituting a trap or nuisance, a consequence of which a pedestrian might stumble, stub her toes or trip over a raised projection." Simply put, if a defect is just too small to appear to be something that could reasonably cause a visitor serious injury, then the property owners won't be held responsible for injuries that result from that defect. The defendants in this case called the ½" crack in the stair a "textbook example of a trivial defect." However, the court disagreed. The opinion described recent rulings by New York State's highest court, the Court of Appeal, which delved into how to assess whether or not a defect is trivial and does not support a claim for premises liability. The court explained that courts will not base their determination of whether a claim is valid solely on the size of a crack, but on all facts and circumstances surrounding the crack and accident, in order to conclude whether or not the defect "unreasonably imperils the safety of a pedestrian . . . whether the defect was difficult for a pedestrian to see or to identify as a hazard or difficult to pass over safely by foot in light of the surrounding circumstances." The court then pointed out that juries should be permitted to analyze factual scenarios of that manner, making it inappropriate to dismiss such cases prior to trial on summary judgment motions, such as the one the defendants filed. The court ruled that Aviles' claim should be permitted to move forward toward trial, and denied the defendants' motion.
If you've been injured in a slip-and-fall or trip-and-fall accident while on someone else's property in New York, determine whether you have a claim for compensation for your injuries by contacting the skilled Hudson Valley personal injury attorneys at Rusk, Wadlin, Heppner & Martuscello for a free consultation, at 845-236-4411 (Marlboro), or 845-331-4100 (Kingston).