Tuxedo Accident Highlights Dangers of Excessive Speed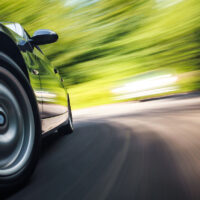 The Insurance Institute for Highway Safety (IIHS) has recently released the results of a study on fatality rates as affected by increases in speed limits nationwide, which found that as speed limits rise, fatalities on the road rise with them. A recent local accident in Tuxedo shows the dangerous effects of driving at high speed.
For many years, the National Maximum Speed Limit capped the speed at which states could set their speed limits at 55 mph. Initially, this limit was set as a response to the fuel shortage of the early 1970s, but had the effect of causing a dramatic reduction in roadway fatalities. As the fuel shortage abated, Congress lifted the restrictions, eventually repealing the national limit entirely in 1995. It was then that states began to increase their maximum speed limits to 65, 70, or 75 mph, and even 85 mph in a small portion of Texas. While fatality rates as a result of car accidents have continued to fall since the 1970s due to factors such as improvements in vehicle safety technology and a reduction in drunk driving, the IIHS study determined that over 33,000 additional lives were lost as a result of the increases in speed limits. The study found that for every increase of five miles per hour in the state's speed limit, roadway fatalities increased by an additional 4%.
A recent accident in the Hudson Valley serves as an example of the dangers posed by speeding drivers. Allen Bukhbinder, 28, of West Nyack, was arrested after causing an accident which injured himself and another person. Bukhbinder was driving at a high rate of speed in the left lane on Route 17A when he suddenly crossed into the right lane, hitting the front of a pickup truck in the process. Bukhbinder's car hit the guardrail and rolled, wrapped in the guard rail, into a tree. The pickup truck hit the guardrail post and was flipped onto its roof. Both the pickup truck's passenger and Bukhbinder were transported to the hospital with non-life-threatening injuries. Bukhbinder was issued a violation for traveling at a speed not reasonable and prudent, and will also face charges for the marijuana he was found to have in his possession, though he was not believed to have been under the influence of drugs at the time.
If you or someone you love has been injured by a speeding driver, or has otherwise been the victim of another driver's negligence in New York, contact the skilled and compassionate Kingston lawyers for car accidents at Rusk, Wadlin, Heppner & Martuscello for a free consultation on your possible claim for damages, at 845-236-4411 for our Marlboro office, or 845-331-4100 for our office in Kingston.