What to Do After a Slip and Fall Accident in New York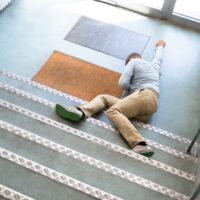 If you slip on a wet floor at a grocery store and break your arm, you are entitled to compensation for your injury. Regardless of whether you are at a private residence, a business open to the public, or an office building, you have the right to damages when you are hurt as a result of someone else's negligence. If you are the victim of a slip and fall accident, read on for a few tips on what to do. Call a dedicated New York premises liability attorney if you or a family member has been hurt on someone else's property in the Hudson Valley.
Get medical attention
It is important to see a doctor as soon as possible after your slip-and-fall. You may have latent injuries such as internal bleeding, organ damage, or a concussion. These injuries can become much worse if left untreated. Additionally, if you delay in getting medical attention, the defendant may try to claim that your injuries resulted from something other than your slip and fall. The sooner you see a doctor, the weaker any argument against the causation of your injury will become.
Report the accident
Let the person responsible for your injury know about your accident. If you fall at a business, report your incident to the manager. If you fall at work, let your employer know, and begin the process of filing for workers' compensation. After reporting the incident, however, you should limit your communication with the premises owner or operator. Whether it's a business owner or a homeowner, the more you discuss the matter with them, the more likely you are to say something that will hurt your case.
Take photos
The moment you are injured, your case for recovering compensation begins. It may sound cynical, but starting the process immediately may be the only way to ensure that you are compensated for your injuries, avoiding medical debt and other consequences. Take pictures of your injuries and, if possible, the environment surrounding your accident (such as the object or wet floor that caused you to fall, lack of lighting, uneven floor, etc.)
Keep copies of all documents
After your accident, keep copies of all documents generated in connection with your injury. Keep copies of your doctor's reports and medical bills, communications with the premises owner, communications with your employer (such as notice about missing days at work or lost wages), communications with insurance companies, and any other documents you obtain. These will help your personal injury attorney build your case down the line.
Do not accept blame
Most of us are taught to be polite from the time we are young. We are used to apologizing, taking the blame, and avoiding confrontation and accepting responsibility. If you were hurt on someone else's property, you must curb those impulses. Do not apologize, do not say it was your fault, and do not say you are fine. Saying these things out of social convention can come back to haunt you.
Be careful with social media
After a serious accident, you might be tempted to post on social media about your recovery, or to otherwise tell all of your family and friends that you are "fine." Be careful with what you say or post publicly. Avoid saying that you are fine, posting pictures of you engaging in strenuous physical activity like sports, or otherwise making it seem like your injury is not a big deal. Doing so can significantly undercut your claim for damages. Do not give negligent defendants any ammunition to undercut your case. Overall, it is good practice to say as little as possible about your accident to anyone other than your attorney, at least until the matter is resolved.
If you or someone you love has been hurt due to someone else's negligence in New York, find out if you have a right to compensation for your injuries by contacting the dedicated and professional Hudson Valley personal injury lawyers at Rusk, Wadlin, Heppner & Martuscello, LLP for a free consultation at 845-331-4100 (Kingston) or 845-236-4411 (Marlboro).