What You Should Know About Scarring and Facial Disfigurement Claims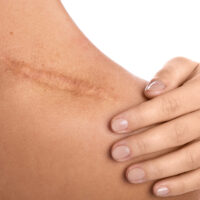 Facial injuries are an especially traumatic form of deformity, as we so closely identify our sense of self with our appearance, and facial scarring can draw a great deal of attention from strangers. One hospital tracked patient admissions for facial injuries over a ten-year period. During that time, the hospital admitted 9,543 patients with facial injuries. Of those, 1,116 received their injuries in traffic accidents, and approximately 500 had received those injuries from incidents at the workplace. The remainder were injured while playing sports, participating in fights, or from other accidents around the home or during other daily activities.
Car accidents can cause disfiguring and scarring injuries in a number of ways, including:
*Lacerations
*Road rash
*Burns
*Broken bones in the face, such as cheek or jawbones, or broken noses
Scarring or disfiguring injuries, especially ones to the face, can require numerous rounds of reconstructive plastic surgery, skin grafts, and fillers, all of which can be painful and expensive. Additionally, it can be difficult to predict the results of cosmetic facial surgery to repair disfigurement, and repeated surgeries to the same areas are not uncommon. If your injuries were caused by another individual's negligent or reckless behavior, make sure you receive full compensation for these expenses through insurance coverage or, if necessary, a personal injury lawsuit.
After you've been hurt, always be sure to seek treatment as soon as possible. Immediate treatment will give you the best opportunity to recover fully from your injuries, and will keep the negligent party from being able to argue that your injuries wouldn't be as bad if you hadn't delayed treatment.
Don't accept an early initial settlement offer from your insurer. Even medical professionals have a hard time predicting how successful reconstructive treatments will be, and how many more surgeries might be required before the issue is resolved. Speak with an attorney before signing any settlements or releases, so that you can receive an objective valuation of your claims and know what sort of compensation you'll need to fully recover from your injuries.
If you've been hurt in a New York car accident and received scarring or disfiguring injuries, contact the knowledgeable and compassionate Hudson Valley personal injury lawyers at Rusk, Wadlin, Heppner & Martuscello for a free consultation on your claims, at 845-331-4100 in Kingston or 845-236-4411 for our office in Marlboro.