When Is the Right Time to Update Your Child's Car Seat?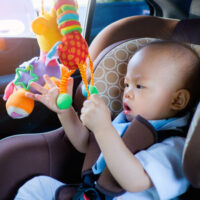 The roads can be a treacherous place for full-grown adults who are involved in a car accident, and they can be even more dangerous for small children or infants in the car at the time of a crash. Finding and correctly installing the best child car safety devices is of critical importance. Not only should you be sure to use the correct device for your child; you should also find out when the right time is to trade out your child's car seat for a more appropriate model. Read on to learn about the signs indicating that it's time to change out your child's car seat for a more appropriate model.
Your child may be too big or too old for their current seat.
New York state recommends placing small infants in a rear-facing safety seat when they first begin riding in the car. Many of these rear-facing seats have a 30-lb weight limit, but most aren't similarly labeled with height limits, and many infants become too tall for these seats before they become too heavy.
Even if they haven't exceeded the weight and height limits of their rear-facing infant seat, your child may still benefit from riding in a rear-facing convertible seat. In a crash test by Consumer Reports that compared the performance of rear-facing infant seats to rear-facing convertible seats, they found that infants over one year old were less likely to hit their head when riding in a rear-facing convertible seat.
While choosing the right seat for your child's height and weight is important, don't make the transition to the next, less-restrictive type of car seat prematurely. For example, if your child still fits in their rear-facing convertible seat, you might want to keep them in that seat after they become old enough for a forward-facing seat, as they will be more protected in the rear-facing seat. Likewise, children are safer in forward-facing safety seats than booster seats.
Your child's seat is damaged, has been in a crash, or has expired
The National Highway Traffic Safety Administration suggests that car seats should be replaced if: they've been in a crash where the airbags deployed; the vehicle had to be towed from the scene of the crash; or the seat or door nearest to the seat was damaged. The seat is likely okay to be used if it was involved in a minor rear-end crash. Be sure to check the seat regularly for any damage or wear and tear from daily use. Be sure that all elastics and buckles are functioning properly, ensuring that the seat works as it should in the event of an accident.
What you may not realize is that car seats come with an expiration date. The manufacturer sets a date by which use of the seat should be discontinued, and that date is normally set six years after the seat is built (you'll find the date in the seat's user manual). Seats come with an expiration date to protect children from riding in a hand-me-down seat with decaying seat components. Additionally, if parents did not receive notice of an applicable recall, expiration dates can help to ensure that a recalled seat is taken out of use.
If your child has been injured in a New York motor vehicle crash, find out if you should file a claim for damages after a crash by contacting the skilled and compassionate Hudson Valley personal injury lawyers at Rusk, Wadlin, Heppner & Martuscello, LLP for a free consultation, at 845-331-4100 (Kingston), or at 845-236-4411 (Marlboro).