Construction Accidents: Who Can I Sue for My Injuries?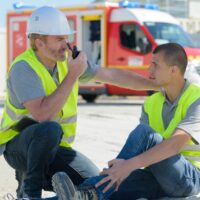 Construction sites are dangerous places. There are a lot of hazardous chemicals, heavy machinery, and large, loose moving parts. Accidents are extremely common for both construction workers and civilians who happen to be walking or driving nearby. Construction accidents generally lead to injury and are often fatal. If you are hurt in a construction accident, who is liable for your injuries? Continue reading to learn about liability after a construction accident, and reach out to a dedicated New York construction accident attorney if you or a loved one has been hurt on a worksite in the Hudson Valley.
Can You Sue Your Employer?
If you were injured at a construction site while on the job, it is unlikely that you will be able to sue your employer. Instead, your workers' compensation (covered by your employer's insurance) will cover your injuries and other financial issues such as lost wages and disability. Workers' compensation laws generally prevent employees from suing employers after a workplace accident.
Property Owners
Although you cannot sue your employer, workers' compensation does not prevent you from suing third parties who may be liable for your injuries. The owner of the property on which construction is being performed is responsible for keeping a safe environment. Even if they had no knowledge or control over the dangerous condition at a construction worksite, they may be liable for an injury to civilians or even to workers (although construction companies and property owners likely have indemnification agreements with regard to worker injuries).
Negligent Workers or Contractors
Many construction sites employ multiple different contractors at the same time to perform different duties. If you were injured by the negligent actions of another contractor (for example, a negligent scaffold operator), you might be able to sue the company that employed that worker.
Equipment Manufacturers
Construction requires the use of many power tools, large machines, and other pieces of equipment that can be dangerous at the best of times if not used carefully. If a piece of equipment malfunctions and is found to be defective as designed or manufactured, you may have a claim against the manufacturer of the product. For example, if a machine electrocutes you unexpectedly, or the wheels of a construction vehicle fly off while you are driving, you may have a claim for third-party liability for your injuries.
Get Valuable Legal Advice and Assistance After a Hudson Valley Construction Site Accident
If you or someone you love has been hurt or killed on a construction site in New York, find out if you have a right to compensation for your injuries by contacting the seasoned, dedicated and passionate Hudson Valley personal injury lawyers at Rusk, Wadlin, Heppner & Martuscello, LLP for a free consultation at 845-331-4100 (Kingston) or 845-236-4411 (Marlboro).