Women at Greater Risk for Concussions than Men, Study Shows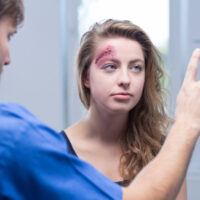 Everyone bears some risk of suffering a traumatic brain injury (TBI) when involved in a serious accident. New research shows that women are at an even greater risk of suffering an injury to the brain in an accident – and of suffering a worse outcome from that injury – than men. This research could provide useful support to a claim for money damages after an accident. Contact a skilled New York personal injury lawyer with any additional questions about filing a personal injury claim after a head injury.
Message-carrying portion of brain cells injured by concussions
Researchers at the Penn Center for Brain Injury and Repair have recently released the results of their study looking at the structure of brain cells in male and female brains, and whether the differences in size and structure had an impact on how those cells responded to force.
The researchers focused their research on the neuronal axons. Axons are long, thin branches of the neuron (cells in the brain) that communicate electric impulses and molecules between cells. When an individual suffers a blow to the head, the force causes axons to stretch rapidly. While the axons themselves don't often break, small tubes that run along the axons to transport molecules (known as "microtubules") do. The breakage of these tubes results in a reduced ability of cells to communicate with one another, and can result in a buildup of harmful chemicals between brain cells. The breakage of these tubes is what is believed to cause a concussion's symptoms, such as unconsciousness, dizziness, or other behavioral changes. Additionally, the chemical buildup that results from microtubule breaks can cause additional swelling and damage to axons.
Difference in brain cell structure leads to greater risk of injury
Studies of both human and rat brain cells revealed to the Penn researchers that the shape and sturdiness of these axons and microtubules are different in men and women. Men's axons tended to be more structurally sound, with a greater number of microtubules running along the axon that were better able to withstand a forceful impact. These axons were leaner in women. Fewer microtubules ran along the axon, making them more likely to break when suffering force. With greater breakage of microtubules after an accident, female accident victims suffered more swelling in the brain and damage to brain cells resulting from chemical buildup. In other words, women were found to be physiologically more likely to experience a concussion and to suffer more severe symptoms than men. This information could be important when calculating the damages women victims of accidents deserve from the at-fault party in an accident.
If you've been hurt in an accident in New York, find out whether you're a good candidate to file a claim for damages by contacting the dedicated and knowledgeable Hudson Valley personal injury lawyers at Rusk, Wadlin, Heppner & Martuscello, LLP in Kingston at 845-331-4100, or in Marlboro at 845-236-4411.