Young Man from Dutchess County Killed by Drunk Driver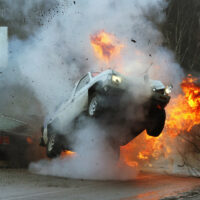 A student whose family lives in Fishkill, New York, was recently struck and killed by a drunk driver as he crossed the street. When reckless behavior results in accidents causing serious injuries or worse, victims and surviving family members may be able to use the facts of their case to support their claim for recovery.
The victim was a 21-year-old man who was studying at Manhattanville College in Purchase, New York. He was returning to campus at approximately 5:00 am on the morning on Sunday, October 9, when the accident occurred. As the man walked along Westchester Avenue under the Anderson Hill Road overpass, he was struck by Emma Fox, a 24-year-old resident of Rye, New York. Fox herself called law enforcement to report that she "may have hit something on Westchester Avenue," said White Plains Police Commissioner David Chong. "She drove about three blocks, stopped, and saw the damage to her vehicle," Chong stated. At the time of Fox's arrest, she had a blood alcohol level of 0.21. The legal blood alcohol limit required to charge someone with driving while intoxicated is 0.08. Fox was charged with one felony count of vehicular homicide and one misdemeanor count of driving while intoxicated.
The young victim was a junior in college, beginning his third season as an attacker on Manhattanville College's men's lacrosse team. He had been a well-regarded member of the team, who "loved his teammates and … loved being a Manhattanville lacrosse player," said Manhattanville president Michael Geisler. The young man had three siblings and had planned to become a marketing major.
When you or someone you love is the victim of an accident with a drunk driver, evidence of that driver's drunkenness will play an important role in a lawsuit for damages stemming from such an accident. First of all, victims will have an easier time of proving the negligence of a driver who was shown to be drunk at the time of the crash. Second, if the at-fault driver was drunk, that could mean that the at-fault driver was over-served at a bar or party. New York law provides that accident victims may be entitled to money damages from bars, restaurants, or hosts who serve alcohol to someone they know to be intoxicated, and do not attempt to prevent them from getting behind the wheel of a car. If the drunk driver does not have a large enough amount of assets to satisfy a judgment, the addition of a defendant business could provide needed compensation to the victims. An experienced New York personal injury lawyer can help you determine whether you may have a basis to file a lawsuit under New York's host or dram shop laws.
If you've been the victim of an accident in New York with a negligent or drunken driver, contact the seasoned and compassionate lawyers for car accidents at Rusk Wadlin Heppner & Martuscello, LLP for a consultation, with offices in Marlboro (845-236-4411) and Kingston (845-331-4100).