Considering a Do-It-Yourself Divorce? Keep These Risks in Mind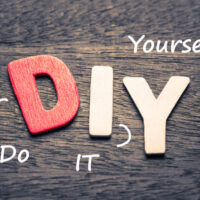 The Google era has left many of us convinced that, with enough searching or forum-reading, we can figure out how to do just about anything with the help of the internet. When it comes to complex and life-altering legal matters, this isn't always the case. Attempting to take on a divorce filing without an attorney can result in far greater conflict and delay than couples might imagine. Read on to learn about what can go wrong in a New York self-help divorce.
Is self-help divorce more amicable and thus better for the kids?
If you and your spouse are on relatively good terms when you decide to divorce, you may believe that handling your divorce filing yourselves without the help of an attorney will keep the process from becoming contentious. Often, the conflicts that arise during the property division or child custody allocation process aren't brought on by the lawyer's involvement, but rather by the intense emotions that are stirred by these sensitive topics. A skilled family law attorney can often streamline this process by providing practical solutions that meet the needs of both parties, developed over years of handling divorce cases like yours, that can help you avoid long fights with your spouse to find a plan that works for you both.
Will not using divorce lawyers make the process faster?
Some couples have heard the horror stories of contested divorces taking months, even years, to resolve, and they think that cutting lawyers out of the equation will expedite matters. This isn't always the case, especially where inexperienced or rushed parties to a divorce fail to include all property or contested issues in their divorce filing or settlement agreement. Struggling to complete all aspects of a divorce filing without outside legal help or, worse, having to reopen a finalized divorce, can make a divorce last years longer than it might have with the help of an attorney.
If you are eager to get your divorce behind you, there are alternatives to courtroom divorce for you to consider. More and more couples are opting for alternative dispute resolution methods such as mediation or arbitration to resolve their divorces. These methods can greatly reduce the amount of time you spend actively negotiating with your ex, sometimes resolving issues that might take months in court in a matter of days.
For a consultation on the ways that hiring a divorce attorney to handle your marital dissolution case in New York can help, contact the seasoned and effective Hudson Valley family law attorneys at Rusk, Wadlin, Heppner & Martuscello, LLP for a consultation, at 845-236-4411 (Marlboro), or 845-331-4100 (Kingston).