Hit-and-Run Kills Motorcyclist in Orange County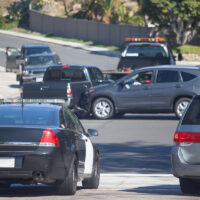 New York law requires that drivers who injure any person or property in an accident stop and respond to the situation. Fleeing the scene of an accident is reckless, dangerous, and illegal. Doing so opens the driver up to criminal prosecution as well as civil liability for any injury made worse by leaving the scene, such as delayed emergency response. Police were on the lookout for a hit-and-run driver who fled the scene after killing a motorcyclist in Highland, New York, on a recent Tuesday night. Read on for details about the crash, and discuss your case with an experienced New York hit and run accident attorney if you or a family member has been injured in a car crash in the Hudson Valley.
SUV driver makes illegal U-turn, crashes, flees
At around 8:30 p.m. on a recent Tuesday, a beige- or tan-colored SUV was heading northbound on Route 9W in the Town of Highlands near the U.S. Military Academy at West Point. The driver tried to make an illegal U-turn into the southbound lanes of traffic. A 62-year-old Highland Falls man was riding his motorcycle at the time, also heading north on 9W in the passing lane. When the SUV made its attempted turn, the motorcyclist was unable to stop and crashed into the driver's side of the vehicle. He was ejected from his motorcycle and died at the scene.
Hit-and-run accidents are not only a common problem in New York; they are getting worse. The number of hit-and run-accidents in New York City has increased by 26 percent, from around 36,000 incidents in 2013 to 46,000 in 2017, according to data from the NYPD. In 2016, 59 people lost their lives across the State of New York in hit-and-run accidents. Nationwide, over 2,000 people died in hit-and-run crashes, an all-time high, according to the AAA Foundation for Traffic Safety. Drivers who recklessly cause injury and flee the scene of an accident must be held accountable for the damages they cause.
If you or someone you love has been hurt in a car crash in New York, find out if you have a right to compensation for your injuries by contacting the experienced, effective and skilled Hudson Valley personal injury lawyers at Rusk, Wadlin, Heppner & Martuscello, LLP for a free consultation at 845-331-4100 (Kingston) or 845-236-4411 (Marlboro).