How to Choose the Right Care Facility for a Loved One with Alzheimer's Disease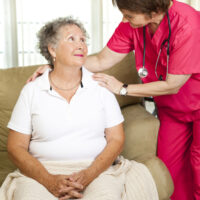 If you have a loved one, such as a parent or spouse, with Alzheimer's disease or dementia, there may come a time when you're unable to provide the full-time care they need to remain healthy and safe. While choosing a nursing home or other residential care facility should always be a careful decision, never is it more important than when your loved one struggles with memory and disorientation. Below, learn about the important qualities to look for in a care facility for a loved one with Alzheimer's or dementia, and contact a knowledgeable Hudson Valley elder law attorney for additional help.
Questions to ask about staffing at an Alzheimer's facility
When visiting facilities geared toward caring for Alzheimer's patients or those with dementia, look for facilities with designated Alzheimer's Special Care Units (SCUs). Also ask about the ratio of staff members to residents. Ideally, there should be at least one staff member to every four residents. Also ask about whether staffers for the Alzheimer's and dementia patient unit have received special training to work with patients with these diseases. Ask about the facility's policy on using chemical or physical restraints, and how staff members are trained to react to physical or emotional outbursts among residents.
What to look for in the facility itself
Alzheimer's patients and those with dementia like to be able to wander, but they are prone to becoming disoriented and are more apt to suffer falls. Look for a facility that offers ample space to wander, but which is located on a single level with adequate security to prevent patients from leaving the grounds. Alzheimer's patients need reminders of where to find important rooms, such as kitchens and bathrooms, and they may lose the ability to read traditional signage. Look for ways that facilities address this issue by using color-coding (such as using a single color for all bathroom doors) and simple graphic symbols on signs rather than only words.
Alzheimer's patients particularly vulnerable to abuse
Sadly, seniors with dementia and Alzheimer's who live in residential care facilities are particularly vulnerable to abuse. The Alzheimer's Association reports that Alzheimer's patients are the victims of between one and two million incidents of abuse every year, though many believe the true number is higher. The risk is especially high among these patients since they may not be aware that the abuse is occurring, or they may not be believed when they complain about abuse. If your loved one does show signs of abuse, such as bruising or pressure marks, unexplained emotional withdrawal or depression, or sudden weight loss, contact a New York elder abuse attorney to learn about potential next steps.
If your parent or spouse has been the victim of abuse while living in a New York nursing home or residential care facility, get help pursuing justice on behalf of your loved one by contacting the compassionate and dedicated Hudson Valley nursing home abuse lawyers at Rusk, Wadlin, Heppner & Martuscello, LLP for a no-cost, confidential consultation at 845-331-4100 (Kingston), or at 845-236-4411 (Marlboro).