Increase in Distracted Driving-Linked Crashes Causes Rulemakers to Suggest Changes to Phone Manufacturers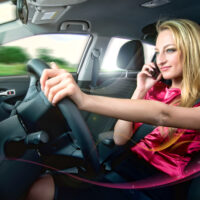 After a particularly alarming number of distraction-related crashes in 2015, federal rulemakers have proposed changes to the way that mobile phone manufacturers control the potential for distraction in their products.
A previous post on our blog discussed the fact that 2015 was the first year in decades that the rate of traffic fatalities increased over those of the previous year. While traffic fatalities overall increased by 7.2% between 2014 and 2015, the rate of distraction-related fatalities rose even more. Ten percent of all those killed in roadway accidents in 2015 died in a crash involving at least one distracted driver; those 3,500 deaths marked an 8.8% increase over the same number from 2014. Some safety advocates believe that the true rate of distraction-related crashes is even higher but is unknown due to the difficulty in tracking such behavior. One initiative in the state of New York sought to address the challenge of proving that a driver was using his or her phone improperly prior to a crash by introducing a tool called the "textalyzer" for use by law enforcement. In partnership with accompanying laws proposed by state legislators, this tool would have allowed police officers to analyze the phone of anyone involved in an accident to determine whether it had been used in the moments before a crash.
In response to the increases in distraction-related deaths, the Department of Transportation created a new set of voluntary guidelines designed to diminish the ability of phones to pose such a powerful distraction while drivers are behind the wheel. The guidelines suggested that phones should be capable of connecting to available in-vehicle entertainment systems when possible, so that drivers can use the hands-free controls available through these systems to operate their phones when necessary. For drivers without in-vehicle entertainment systems, the guidelines recommend creating a "driver mode" that automatically locks the user out from certain apps and phone functions, such as Snapchat, Facebook, and manual text entry.
If you or someone you love has been injured by a distracted driver in New York, find out if you should file a lawsuit to recover your money damages by contacting the knowledgeable and seasoned Kingston auto injury lawyers at Rusk Wadlin Heppner & Martuscello, LLP for a free consultation on your case, at 845-331-4100 (Kingston), or 845-236-4411 (Marlboro).