Local City Planner Killed in Tree Trimming Accident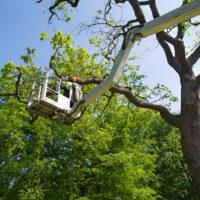 A Saugerties man who served as a planner for multiple towns in Ulster County and who was otherwise involved in the community has died. Tragically, the man was fatally injured when struck by a falling tree branch cut by tree trimmers. Learn more about the case below, and contact a seasoned Kingston personal injury attorney with any questions if you or a loved one has been injured in an accident.
The recent accident occurred on Tuesday, June 5, 2018. A team of tree trimmers from the Pennsylvania-based company Jaflo, contracted by Central Hudson Gas & Electric, were trimming trees along Mount Airy Road in Saugerties that day. Central Hudson Gas & Electric had notified the victim, a 60-year-old man who owned a home along Mount Airy Road, that they would be trimming the trees on his property that day. Additionally, one of the contractors had spoken with the man before starting the work. At around 2 pm, the victim stepped out of his front door to check on the workers' progress. The man was then struck by a branch. He was airlifted to Albany Medical Center for treatment, where he would later succumb to his injuries.
According to a representative of Central Hudson Gas & Electric, the team working on the victim's home followed "all safety protocols" on the day of the accident per an initial investigation into the accident. A representative from Jaflo explained that homeowners are typically prohibited from entering work areas while tree trimmers are working, but it isn't yet clear the victim was told this on the day of the accident.
Some accidents aren't only the result of one person's negligent behavior but are instead caused in part by the victim themselves. Even when victims are partially responsible for their injuries, however, they may still have a right to compensation. New York State follows a system known as pure comparative negligence. Under this system, if another person was at least partially responsible for a victim's injuries through careless or negligent behavior, an accident victim can still seek damages from that person even when the victim was also partially responsible. The victim's compensation, however, will be reduced by the percentage for which the court has found the victim to be responsible for their injuries. For example, if the court finds that an accident victim is entitled to $100,000 in damages but was 45% responsible for their injuries, the defendant will only owe the victim $55,000.
If you've been injured in an accident in New York, find out if you have a case that might entitle you to money damages for your injuries by contacting the seasoned and professional New York personal injury lawyers at Rusk, Wadlin, Heppner & Martuscello, LLP for a free consultation at 845-331-4100 (Kingston), or at 845-236-4411 (Marlboro).