Massive Pile-up on New York Highway during Whiteout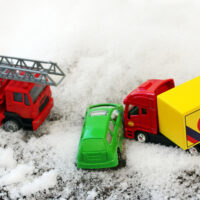 An accident on a New York highway involving dozens of vehicles has left one person dead, another critically injured, and dozens more stranded for the night. The collision is illustrative of the destructive potential of white-out conditions. Read on to learn more about the crash, and for tips on how to respond safely if you get caught in a whiteout on Hudson Valley roads.
New York Thruway site of 22-car pileup
The major collision occurred in the eastbound lanes of the New York State Thruway near the Clarence exit in Erie County. Snow and wind had made visibility very low, and as the day wore on, conditions became worse. The chain of collisions began mid-afternoon. According to Erie County Executive Mark Poloncarz, the total number of vehicles directly involved in the pile-up reached 22. One state trooper noted that ten tractor-trailers were among those involved, further amplifying the force of the collisions.
Emergency personnel were forced to use the westbound lanes of the Thruway to reach the crash victims. One 64-year-old Elba man who collided with the rear of a tractor-trailer was transported via ambulance to the Erie County Medical center, where he was eventually pronounced dead. Another crash victim suffered critical injuries. The other drivers involved suffered only minor injuries, though many experienced serious property damage. After hours spent unable to drive away and waiting for help, the stranded drivers were bused to a nearby hotel where they were greeted with warm drinks and blankets.
What to do when whiteout conditions hit while you're on the road
Safety experts will always advise you to forgo driving during a winter storm, but in some cases, storms begin or intensify when you're already on the road. The most important measure you can take when driving through a whiteout is to adjust your speed and driving behavior to the current conditions. Slow down to a speed that allows you to remain in control of your vehicle, leaving abundant space between yourself and the car ahead to allow you to come to a stop when you need to. Reduce the chances of a collision by remaining in your lane and driving at a steady speed. Eliminate as many distractions as possible; even a radio can draw your attention away from the road ahead. Use your low-beam headlights to reduce the glare off the ice and snow. If visibility becomes nonexistent, pull off to a safe place to stop and wait for conditions to improve.
If you've been injured in a winter weather accident or pileup in New York, contact a seasoned, knowledgeable, and professional Kingston car accident lawyer at Rusk Wadlin Heppner & Martuscello, LLP for a free consultation, in Kingston at 845-331-4100, and in Marlboro at 845-236-4411.