Saugerties Hamlet Accident Causes Injuries to Four Drivers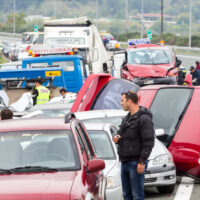 A recent incident on the U.S. Route 9W resulted in four drivers being sent to the hospital and the closure of the highway around the crash site. The at-fault driver is said to have been both distracted and speeding in the moments before the crash.
A young woman in a Chevrolet Cobalt was heading north on Route 9W in the hamlet of Glasco during the morning rush hour on Wednesday, October 26. The woman was not watching the road carefully at the time and failed to notice that an Asplundh Tree Co. employee had brought the traffic in front of her to a stop as it approached the Glasco Turnpike. The woman's Cobalt rammed into the rear end of a GMC Envoy. The Envoy was hit with such force that it was pushed forward into the rear of a Honda Civic. Likewise, the Civic was pushed into the rear of a Honda Accord.
A fifth man, traveling behind the Cobalt in a Scion, attempted to avoid colliding with the Cobalt by swerving to the right. Unfortunately, his car swerved through the shoulder, into a neighboring embankment, and became airborne. The car completely flipped over and managed to land right side up, but not before striking the Honda Accord. The drivers of the Cobalt, Envoy, Civic, and Accord were all sent to the nearby HealthAlliance Hospital's Broadway Campus in Kingston with injuries of varying severity, but ones which Saugerties police believed not to be life-threatening. The driver of the Scion managed to escape injury entirely.
Unreasonable speed coupled with behind-the-wheel distraction can make for a lethal combination. While 2015 was, as we've discussed in a prior post, a particularly deadly year on US roads, reports from the first six months of 2016 show that this year is shaping up to be even more deadly. Safety officials regularly cite excessive speed for conditions and distracted driving as two of the top causes of fatal accidents, and speed amplifies the effects of driving while distracted. For example, when a driver spends five seconds with their eyes off the road while reading a text, their car will cover the length of a football field if they're traveling at 55 mph. This is more than enough time to miss important information, such as an object entering the roadway, or a flag-waving roadside worker directing traffic. This sort of negligence can have costly consequences when it results in a serious accident, such as the recent incident in Glasco.
If you've been injured in a crash in New York, find out if you may be owed money damages for your medical expenses, property damage, and lost wages by contacting the lawyers for car accidents at Rusk Wadlin Heppner & Martuscello for a consultation on your claims, with offices in Marlboro (845-236-4411) and Kingston (845-331-4100).