What Are the Most Common Types of Personal Injury Lawsuits?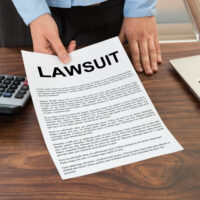 The phrase "personal injury" can be used to describe many different types of lawsuits that result from a person being injured by another person's wrongful behavior. That said, there are several forms of personal injury lawsuit that are filed more often than others. These include:
1. Lawsuits stemming from vehicle accidents
Dozens of car accidents occur across the State of New York every day, with some resulting in major injuries for the victims. Motor vehicle accidents cause about 40,000 deaths across the US each year, and hundreds of thousands more injuries. What's more, statistics show that 94% of these accidents are caused by a driver's mistake. Filing a personal injury lawsuit is one of the main ways that victims who suffer serious injuries in auto accidents can be fully compensated.
2. Claims based on slip-and-fall accidents
We count on the businesses and public spaces we visit to be well-kept and free of tripping hazards. Hazards that appear unexpectedly in commercial or public places and cause a fall can result in serious injuries. Fall victims can seek compensation for the cost of their injuries through a personal injury claim based on what's called premises liability, or the liability of a property owner for injuries suffered on their property.
3. Wrongful death lawsuits
Wrongful death lawsuits are a way for the families of those killed in an accident to seek compensation for their loved one's death. These claims stem from other types of claims, such as a motor vehicle accident or medical malpractice claim, and describe the type of damages being sought by the plaintiff. Surviving spouses or family members may be able to recover wages their deceased family member would have earned, as well as compensation for the loss of the support or nurturing a family member would have provided to their spouse or child.
4. Medical malpractice claims
Patients rely on their doctors to exercise care and follow best practices when performing treatment, and when this doesn't happen, major injuries can result. Studies show that medical malpractice is one of the leading causes of death in the US, and also that it can often be prevented with better hospital practices such as improved communication, record-keeping, or drug labeling. These errors in treatment may warrant payment of compensation to malpractice victims.
If you or a loved one has been injured in an accident in New York, find out if you're eligible to file a personal injury lawsuit by contacting the dedicated and effective Hudson Valley personal injury lawyers at Rusk, Wadlin, Heppner & Martuscello for a consultation, in Kingston at 845-331-4100, and in Marlboro at 845-236-4411.