What Might You Include in Your New York Prenuptial Agreement?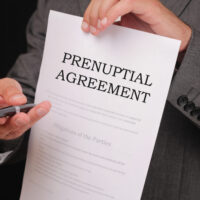 Before getting married, more and more New York couples are opting to create prenuptial agreements. These agreements can simplify the process of getting a divorce in the event a marital dissolution becomes necessary. Prenups allow couples to avoid expensive, drawn-out trials by making fair and reasonable decisions about how to divide property in advance of a split. These agreements are especially critical for couples where one or both members have been married before. Even if you know you need a prenuptial agreement, do you know what to include in it? Read on to learn more about what to consider including in your prenuptial agreement, and speak with a knowledgeable New York family law attorney with any additional questions.
Address the question of spousal support
While prenups often include waivers of spousal support, some instead delineate how much spousal support one spouse can expect to receive. Some prenuptial agreements will set increasing amounts of spousal support based on the length of the marriage at the time of divorce. While spousal support can be waived or set in a prenuptial agreement, it is illegal to agree in advance to waive child support.
Decide who will pay which debt
Determining in advance which spouse will pay which of the couple's debts, instead of dividing them all in half, can simplify the process of separating your finances from those of your spouse upon divorce.
Outline how property will be divided, what property should be considered separate, and what property should be considered marital
Prenuptial agreements can include agreements regarding which spouse will receive important assets, such as the house, car, or artwork, upon divorce. Spouses can also specify that certain property should remain separate or be considered marital, regardless of when it was obtained.
Choose the state whose laws will govern
If you and your spouse divide your time between multiple states or countries, you may wish to include a clause that New York law will govern your agreement.
Include a sunset provision
Prenuptial agreements have long carried a stigma as being unromantic or pessimistic ways to begin what should be a lifelong partnership. Some couples try to balance this pessimism by including a sunset clause. A sunset clause states that the prenuptial agreement will no longer be enforced if the couple remains married for a chosen amount of time. In other words, if the sunset clause kicks in after seven years, and the couple chose to divorce after 20 years of marriage, their property would be divided according to New York's equitable division laws and not the prenuptial agreement.
If you're planning to get married in New York, get help handling the legal issues that follow, such as revising your will or creating a prenuptial agreement, by contacting the dedicated and knowledgeable Hudson Valley family law attorneys at Rusk, Wadlin, Heppner & Martuscello, LLP for a consultation, at 845-331-4100 (Kingston), or at 845-236-4411 (Marlboro).